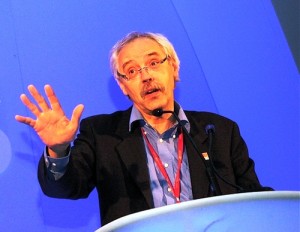 As Liverpool prepares to vote for its first directly-elected mayor, JMU Journalism aims to talk to all of the candidates to see what they are offering the public. We spoke to Richard Kemp about his bid.
Liberal Democrat mayoral candidate Richard Kemp has said that his priority if elected is to find well paid employment opportunities for the city's students.
The city councillor admits that his party have paid dearly for the pledge Nick Clegg made to remove university fees, but told JMU Journalism: "Nick Clegg has admitted that he should never have signed the pledge to remove students fees before knowing what the finances of the country were.
"The job now is to find employment for those people who pay the fees when their courses are completed. Attracting new well paid jobs for graduates and none graduates alike is the key priority for the city."
A councillor for 29 years, Kemp plans to ensure the name Liverpool and not Merseyside is what is used to attract inward investment and tourism and wants to spin off more businesses from the city's three universities.
Though Kemp does not believe in the elected mayoral system, saying it works no better than the leader system Liverpool has had for the past 14 years, he believes that it is the powers of the new Localism Act will allow councillors to make key
decisions.
He said the new legislation will allow the city to develop a long-term, coherent vision to unite people and attract external public and private investment. He continued: "This is 'opportunity city' we need to take those opportunities out and deliver them. That is the key role of the Mayor under the mayoral system."
In his manifesto, Kemp, who has lived in Liverpool for four decades, says he wants to 'recreate the spirit that brought us Capital of Culture' proposing the idea for the city to become the European Green Capital.
He explained: "The universities can contribute research and practical knowledge; the private sector can establish businesses to make equipment. A local electricity company could draw enough electricity from the Mersey alone to power the whole of Liverpool.
"This is a big idea which will create a healthy, sustainable city and unite all our citizens, organisations and businesses in a positive programme for change."
The councillor, who represents Church ward, has also proposed to hold two 'Meet the Mayor' sessions every week, which would involve going from community-to-community to answer any problems that local people might have.
Kemp told JMU Journalism that listening to feedback from the general public is the way to move forward: "There is no point in going to look and listen unless you are going to learn and deliver. We must treat people better than we have. If we cannot help them, and sometimes we cannot, we must say so.
"However, the point of leaving the Town Hall and going into communities is to look for solutions, especially solutions that people can assist with themselves, and not just problems."