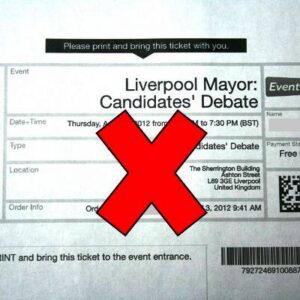 A controversial debate, which was to feature all of the candidates to become Liverpool's mayor, has been scrapped by the University of Liverpool over public safety fears.
The decision came after indications that there would be protests against some of those due to appear on stage, leaving one candidate to describe the situation as a "shambles".
The mayoral debate organised for Thursday evening had already switched venues following a demand by the Liverpool Guild of Students (LGoS), which was due to host the event.
The Guild cited its "no platform" policy for far right candidates, which would have affected the British National Party and National Front mayoral hopefuls.
It was scheduled to take place at in the Guild of Students' Mountford Hall, which was itself a replacement venue after an unexpected demand for tickets, which rose beyond 500.
After the LGoS objection, the University of Liverpool switched the location to its Sherrington Building with just 48 hours to go. However, when it became clear that protestors were due to descend en masse, the debate was axed on the day before it was due to be staged.
A statement by the university read: "The University of Liverpool has been in discussions with local agencies and stakeholders regarding the Liverpool mayor debate this week. Due to the risk of potential disruption from various factions, which may impact on staff, student, and public safety at the event, the University has regretfully taken the decision to cancel tomorrow evening's candidates' debate."
The debate, which was set to be chaired by BBC Radio Merseyside's Dr Roger Phillips, was to include all 12 candidates, including those from
the BNP and National Front, prompting groups such as Liverpool Antifascists to plan potential demonstrations.
News of the cancellation spread across Twitter on Wednesday afternoon. Lib Dem mayoral candidate, Richard Kemp, tweeted: "I am really disappointed that tomorrow's debate at the University has been cancelled. BUT they should not have invited fascists in 1st place."
Independent candidate, Liam Fogarty also took to Twitter to vent his frustration at the decision, tweeting: "Showcase-turned-shambles. Uni's #liverpoolmayor debate CALLED OFF. Invites to far-right candidates led to safety fears. Mayor debate should have been real debate w/ real candidates as 1st planned. Asking BNP/NF was asking for trouble. Found it."
He later added: "An avoidable mess. 500+ invitees let down, and entire #liverpoolmayor election campaign diminished as a result. Nice work, everyone…"
It is unclear whether an all-candidates debate will be rearranged, though with just a fortnight to go before Liverpool votes for its first directly-elected mayor on Thursday, 3rd May, that would appear to be doubtful.