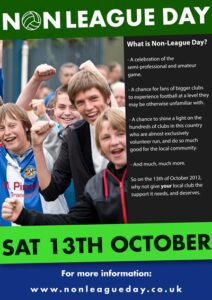 Non-league football club Marine have appealed to supporters of Merseyside's 'big' teams to support their club this weekend as part of a nationwide initiative.
Entitled 'Non-League Day' the event is a celebration of the semi-professional and amateur game and a chance for fans of bigger clubs to experience football at a level they may be otherwise unfamiliar with.
With admission free for all season ticket holders from Everton and Liverpool for Saturday's fixture with Worktop Town, Lilywhites chairman Paul Leary has urged all supporters to get behind their team as they look to build on an impressive start to the season.
Speaking to JMU Journalism, he said: "It's a great opportunity for football clubs at our level to show what we've got and give fans a chance to see what we can offer. I feel we've currently got a good team and this weekend is a perfect opportunity for the Merseyside community to get behind us."
Last night's 4-2 victory away to Ashton United took Marine to the top of the Evo-Stick League Northern Premier Division. Kevin Lynch's side are yet to taste defeat in the league and are just one step away from the first round proper of the FA Cup. Former Football League outfit Macclesfield Town stand in the way of a possible windfall.
Leary is delighted with the club's start to the season and is hoping that it continues. He said: "It's the best start we've had for a good number of years.
Next five fixtures
October 13 – Worksop Town (H)
October 16 – Witton Albion (A)
October 20 – Macclesfield Town- FA Cup (A)
October 23 – Stafford Rangers (H)
October 27 – Stocksbridge Park Steels (H)
To be top of the league and still in the FA Cup is a fabulous start and we're delighted for the team, manager and fans.
"Hopefully we can be there or thereabouts in the play-off places come the end of the season, plus a run in the FA Cup would be brilliant for a club of our stature."
However it is not all plain sailing at lower-league level. Leary admits it is difficult maintaining the club in the shadow of its more illustrious neighbours but it is a challenge he still relishes more than 30 years after he first joined the club as treasurer in 1978.
He said: "We have a great set of loyal supporters. Last season we had a floodlight appeal in order to raise some much needed funds for new floodlights at the Arriva Stadium and almost half of the £70,000 raised was donated by them, along with grants from the football authorities."
Non-League Day is the brainchild of James Doe who is a lifelong football fan, supporter of Queens Park Rangers and follower of Harrow Borough FC.
He said: "With England playing on Friday 12th October and the Premier League and Championship taking a week off, I urge all fans of the big clubs to get out and watch their local non-league teams instead on Saturday 13th October!
"Given the current financial climate, clubs outside the football league need all the support they can get, so your presence at a game will be genuinely appreciated. With tickets and refreshments at a fraction of the cost, what's stopping you?"
The event is supported by the Football Supporters Federation and Supporters Direct, and its official ambassador is Sky Sports Commentator Martin Tyler. For more information visit the website.