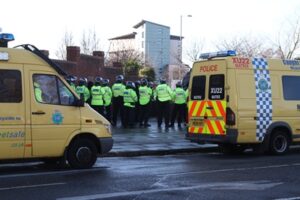 A major public disturbance was thwarted by Merseyside Police as opposition to a pro-Irish Republican march threatened to spiral out of control in Liverpool.
Police officers, some dressed in riot gear, battled to contain the protesters in Leeds Street on the outskirts of the city centre, as a crowd attempted to confront the Republican supporters.
The march, in memory of Sean Phelan, a Liverpool-born member of the Irish Volunteers who died in 1921, was making its way from Kirkdale to the city centre when trouble flared.
A police spokesperson said: "Merseyside Police put an extensive policing plan in place to allow the march, organised by Liverpool Friends of Ireland, The James Larkin Society and Liverpool Irish and Republic Flute Band to go ahead.
"A number of counter protests groups did turn out as a result of this march in Derby Square and there was some disorder in the Leeds Street area before the march began. As a result of the disorder, the organisers agreed to curtail the march early."
A 46-year-old man was arrested for breach of the peace, although he was later released without charge. An amateur photographer was assaulted and was left shaken, but unhurt.
Earlier in the day, a largely good-natured protest was held outside Liverpool Crown Court with a number of groups in attendance, including many current or former army soldiers.
However, the atmosphere changed at approximately 2pm as word spread of a potential disturbance at the junction of Leeds Street and Vauxhall Road. Both police officers and protesters quickly made their way the short distance to Leeds Street, where tensions were running high.
A police helicopter hovered throughout offering aerial assistance, and calm was eventually restored. Up to 40 protesters were held and 'kettled' at the scene by police officers until the march had been diverted.
The North-West Nationalists' website, which described itself as the "real home for patriotic people in Britain", claimed victory for the early curtailment of the Republicans' march, saying: "A coalition of patriotic groups, including ex-servicemen and Royal British Legion, allied in opposition to these anti-British traitors. Well done all."