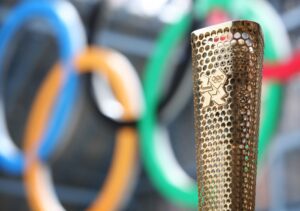 The Olympic torch is set to pass through Liverpool on its journey to London, taking a trip on the Mersey Ferry and past the city's two cathedrals on its way.
Plans were announced as the London 2012 Organising Committee of the Olympic and Paralympics Games released the details of the route taken by Liverpool's torchbearers.
The journey will begin in Southport and travel through St Helens, passing the Liverpool John Moores Screen School on Edge Lane, before it reaches the city centre and continues to Birkenhead on June 1st.
The flame will be carried to the Wirral through the Mersey Tunnel and will travel back to Liverpool on the ferry in time for an evening of special celebrations.
The names of the torchbearers have also been revealed and include taxi driver Bernie Buxton, who was nominated for his hard work for the Liverpool Taxi Drivers Children in Care Outing Fund, and 17-year-old Molly Steel, who received a nomination for her commitment to amateur boxing in the Merseyside and Cheshire area.
Molly said: "I couldn't believe it when I was told I had been chosen to be an Olympic Torchbearer. What a great honour to be carrying the torch through my own city."
Alongside Molly and Bernie will be Jane Campbell, recognised for her charity work in communities in Speke, and Rob Jackson, an Advanced Nurse Practitioner at the Royal Liverpool Hospital who was nominated for his fight against knife crime.
Sebastian Coe, Chair of LOCOG, said: "Now the people know the route the Olympic Flame will be carried along and the Torchbearers for their community, they can start planning how they might celebrate and make it Liverpool's moment to shine
Celebrations are already in place to mark the occasion, ranging from special bell ringing at the cathedral to musical performances and giant puppet shows that will take place at the Pier Head on the torch's return to the city.