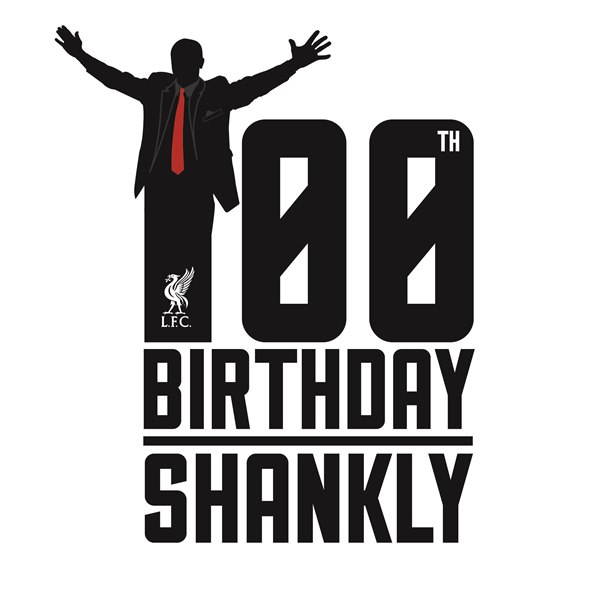 Liverpool Football Club will pay tribute to one of its most famous managers this Sunday during the build-up to their match at Anfield against Manchester United.
Bill Shankly, arguably the greatest figure in the club's history, was born 100 years ago, with Monday 2nd September 2013 marking the centenary date.
One minute's applause will be carried out prior to kick-off and fans in the Kop will hold aloft cards to display a special mosaic.
However, this is just one part of the club's wide-ranging plans to commemorate the 100th anniversary since the birth of the legendary Scot.
LFC is also hosting an exclusive dinner at Anfield in partnership with the Shankly family on Saturday 7th September 2013. The dinner will be hosted by BBC presenter and LFC supporter Colin Murray and will include an authentic version of the meal served at Shankly's 'thank you' retirement dinner 39 years ago. The family will also be launching the new Shankly Foundation at the dinner.
A number of former Liverpool players who worked under Shankly and guest speakers will also be in attendance to share their nostalgic stories and memories of the Scot and his remarkable impact at Anfield.
The club is also creating a special Shankly museum at the Boot Room Cafe at Anfield which will be free and open to fans during the month of September. Special memorabilia will be on display from Shankly's 15-year reign at LFC.
Ian Ayre, Managing Director, Liverpool FC, said: "The name Bill Shankly is, and always will be, synonymous with Liverpool Football Club. He laid the foundations to enable the Club to grow to what it is today.
"We continue to live and breathe those values he created over 40 years ago throughout our Liverpool family and it's important that we give our fans the opportunity to celebrate this important milestone with us."
Without Shankly, it is safe to say that Liverpool would not be the world-renowned club they are today. The man, who turned a Second Division side from also-rans to champions of England, left a legacy that helped the Reds conquer the domestic and European game.
In December 1959, Shankly arrived at Anfield and things would never be the same again. Languishing in the old Second Division, with a crumbling stadium, poor training facilities and a bloated playing staff, the challenge facing Shankly was enormous.
Typically, it was one he would relish, and after realising the need to dramatically transform the club head-to-toe, Shankly and Liverpool would go on "to conquer the bloody world".
But to do this he needed a higher standard of player, with signings such as Ron Yeats and Ian St. John elevating the Reds back to the First Division in 1962. Just two years later, the team would be champions of England and the glory days were back at Anfield.
Shankly was a visionary – dogmatic in his beliefs but always willing to learn from those around him. He introduced Liverpool's all-red kit in 1964, using his captain Yeats as his 'model', with the centre-half made to parade the new strip – said to make him look "Ten feet tall!" – before reporters.
The changes had the desired effect, as the club's first FA Cup triumph was to follow in 1965. A European Cup semi-final appearance was also secured, but refereeing decisions would cost Liverpool dearly in the second leg against Inter Milan. In his later years, Shankly admitted that the semi-final defeat "haunted" him.
A second league title was to follow 12 months later, but his side suffered European heartache once again after losing 2-1 in extra-time to Borussia Dortmund in the Cup Winners' Cup Final at Hampden Park.
But no silverware was to follow for another seven years and it was with a heavy heart that Shankly phased out some of his star players who had played their part in the Red Renaissance. In their place came the likes of Ray Clemence, Phil Thompson and most notably Kevin Keegan who was prised away from Scunthorpe.
Soon enough, Shankly won his third and final First Division title in 1972/73 alongside the club's first European trophy, the UEFA Cup thanks to a 3-2 aggregate win over Borussia Monchengladbach. A year later Newcastle United were comfortably disposed 3-0 in the FA Cup Final, but it was with a heavy heart that Shankly announced his retirement shortly afterwards.
Regardless of his achievements on the pitch, it was Shankly's bond with the fans that would cement his position as arguably the greatest figure in Liverpool's illustrious history.
Whether it was ticket requests or even playing football with kids on a field which would later be named in his honour, the man from Glenbuck had time for anyone who loved football, and his socialist beliefs endeared him to the Kop faithful.
So much that he once said of the world-famous football terrace: "If you're a member of the Kop, you feel like you're a member of a big society. You've got thousands of friends all around about you. They're united and loyal."
Shankly's shock retirement as manager in the summer of 1974 caused a level of grief among Liverpool supporters which was only eclipsed when the great man died in 1981.
It is a testament to his success that to this day he is still remembered and revered by both Liverpool and the world of football. A statue of Shankly stands outside the Kop with the words: "He made the people happy" engraved at the bottom.
In addition to this, the Shankly Gates were opened in 1982 by his wife Nessie, just a year after his death. Both stand as a permanent tribute to the man who put Liverpool on the football map and laid the foundations for future glory, all of which is arguably all down to Bill Shankly.