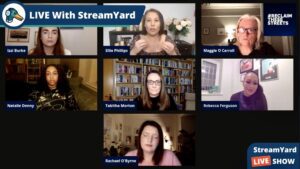 An online vigil was held as part of the Reclaim These Streets movement that stands up for violence against women.
The live stream took place instead of a planned socially distanced protest in Liverpool after organisers sought advice from Mersyside Police due to Covid-19 restrictions. There are plans for a public protest to go ahead when it is deemed safe to do so.
The Reclaim These Streets campaign was set up in response to the disapearance and death of Sarah Everard in London and is highlighting some of the issues women face in terms of violence and discrimination.
Isabel Burke, who organized the Liverpool vigil, said: "The disappearance and suspected murder of Sarah Everard just goes to show that all the things we've been told to do as women to be 'safer' like taking the well-lit route, calling your partner and wearing bright clothes, don't make a difference when predators exist.
"The aim of the event was to help provide a safe place for women to gather and also encourage people to evaluate how you treat women and whether your personal behaviour could be adding to the problem."
Listen to Isable Burke who said she was left "absolutely raging" by some of the comments about Sarah Everard's disappearance and death>>>
Damming statistics from Merseyside Domestic Violence service show that one in four women in the UK will be affected by domestic abuse in their lifetimes and reported rape has increased by 165 percent in the last ten years, yet the conviction rate has dropped from 24 percent to 9 percent.
The live stream consisted of seven speakers alongside Ms. Burke that included singer Rebecca Ferguson, Labour MP for South Wirral Alison Mcgovern, deputy leader of the Women's Equality Party Tabitha Morton, writer Natalie Denny, CEO of The Women's Organisation in Liverpool Maggie O'Carroll, activist Rachel O'Bryne and host Ellie Phillips.
Law graduate Ms Burke said: "We need to realise that women's actions aren't the problem. Sarah did everything 'right' but it wasn't enough. Until we stop teaching women the best ways to avoid being assaulted and instead teach men to simply not assault women, nothing will change.
"This is a conversation that we need everyone to get on board with and actively challenge the attitudes that have been accepted for so long."
The Reclaim These Streets movement was originally set up for a vigil in Clapham at the weekend but, due to its popularity over social media, the group has branched out to other areas of the UK.
There were controversial scenes at the Clapham vigil on Saturday evening with images surfacing of the Metropolitan Police heavy handling protestors who were said to be breaking current lockdown restrictions.
The Met has received strong backlash in relation to the incident with Police Commissioner Cressida Dick receiving calls to resign. In response, Ms Dick asked for people to express their "really strong feelings about women's safety in other ways."
🎙Commissioner Cressida Dick: All my thoughts and prayers are with Sarah's family and her loved ones.

I do appeal to people to express their sadness and their solidarity and their really strong feelings about women's safety in other ways.#ReclaimTheseStreets | #SarahEverard pic.twitter.com/nIATT5ysMj

— Metropolitan Police (@metpoliceuk) March 13, 2021