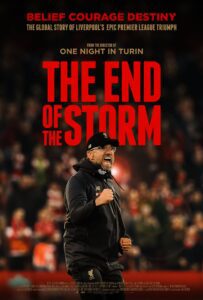 A new  film about Liverpool FC promises to provide 'deeper insight' to the Premier League champions.
The End of the Storm was released this week and tells the story of the climax to Liverpool's 30-year wait to win the league title.
The film enables viewers to see through the lens of Reds manager Jurgen Klopp to find out what drives him, as well as the players and fans for a three-dimensional image.
Clips were used from games during the 2019-20 season alongside interviews with Klopp, players and fans for a rounded perspective of the title winning campaign.
Director James Erskine set out to make the film more personal. Speaking to JMU Journalism, he said:
"We wanted to focus on new angles with the questions we asked, not just what was it like to beat Manchester United.
"We wanted to understand why players did this, what it means to them, where are you from and what are your struggles to make it more personal."
Erskine has made several sports-centred films such as One Night in Turin and Sachin but says The End of The Storm enabled the filming crew to get much closer to the Liverpool players and staff, albeit with social distancing measures in place due to the coronavirus pandemic.
"Every film is different," he said. "The challenge was to create a film where everyone knows about the story, but we had to give a deeper insight into the players.
"It was very challenging through the pandemic as we could not travel to different locations and only a certain amount of people could be in the studio at one time. One Night in Turin was made from archival footage whereas we were close and personal with the Liverpool team."
The soundtrack was sung by Lana del Ray who produced her own unique version of Liverpool's famous anthem, You Never Walk Alone. Erskine was delighted to enlist such a high profile artist.
He said: "We had seen that she had been to Anfield a few times, so we got in touch with her manager, who was a big Red.
"One night I got a call from him saying Lana is in the studio and she will do it which was amazing. She did an acapella version and then we built the track around that."
The End of The Storm is now available to buy on DVD and Blu-ray and will be available to watch on Sky Documentaries in 2021 for viewers in the United Kingdom and Republic of Ireland.