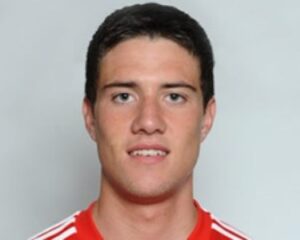 Liverpool defender Martin Kelly spoke to JMU Journalism about his ambitions for the future and what it is like to learn from established professionals such as Jamie Carragher and Glen Johnson.
Despite having only made 17 appearances since his debut in 2008, Kelly has been the subject of glowing praise from Reds supporters and is expected to cement a place in the first team in coming seasons.
After his most recent appearance against FC Utrecht in the UEFA Europa League, Kelly discussed his current situation.
He said: "I'm getting the opportunities that I want and that's brilliant. I've got to work from these opportunities and give it my all and keep going as a young pro.
"You've got to keep thinking bigger things and look at the bigger picture in the future but at the minute you've got to take every game as it comes and do as well as you can."
Kelly is currently understudy to England's Johnson which, along with injury, is the reason he has not turned out for Liverpool more often. But he insisted he is happy to learn from the former Portsmouth right-back.
The 20-year-old said: "To learn from the England No.2 and Liverpool No.2 is fantastic. It's good to train day-in, day-out with such good players, who are helping me a lot. It's good for my career to be at a club like this and I've got the best opportunity to try and go forward."
His versatility may go some way to helping him to make more starts for Liverpool, as he is capable of playing anywhere across the back four. Kelly admitted he is not sure where his best position is yet but will player wherever the manager asks.
He said: "I'm not sure whether my position is full-back or centre-half, I'm just happy where the manager puts me. If he sees me as a right-back then that's where I've got to play and wherever he puts me I've got to try and do my best."
Profile
Position: Right-back/Centre-back
Age: 20
Place of birth: Bolton
Debut: 9th Dec 2008 vs. PSV
Appearances: 17
Contract expires: 2014
Squad number: 34
Previous club: Huddersfield (Loan)
Carragher was in a similar position not too long ago, earning a regular place in the starting line-up at left-back before Rafa Benitez's arrival heralded the start of a successful period at centre-back. Kelly revealed he has talked to his team-mate about his experiences.
The England Under-21 said: "I asked him what it was like when he was younger, when he was playing at my age. He did brilliant at full-back but he always knew his position was centre-half. I'm at the best club in the world for the game of football that I grew up wanting to be in. Hopefully in years to come I can look back and say I've had a good career."
Kelly's hopes could have been improved by an impressive performance against Manchester United in Kenny Dalglish's first game since his return as manager. Standing in for Johnson – who missed the match as his wife was in labour – Kelly played well and rose to the big occasion despite the Reds ultimately losing 1-0.