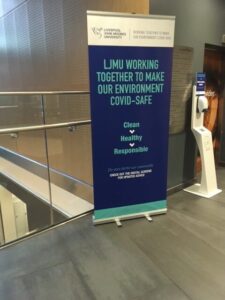 Campus based Covid marshals are getting their hours cut due to the city entering Tier 3.
Liverpool John Moores University hired just under 500 marshals at the start of the academic year to keep students and staff safe across their campuses.
The temporary staff are also trained as fire marshals to ensure safety in case of an emergency.
The University has implemented their own tier system and have now entered Tier 2. This means there is an 'increase of on-line activity except for activities requiring specialist space and for professional accreditation'.
As of next week, there will be four marshals per building rather than 12 to reflect the smaller number of students entering campus.
One marshal who has no hours, Rajkiran Narwan, 18, said: "The building I work in has five floors and although there's not classes on every floor, I think four staff would not be enough to cover the whole building. I also think if the fire alarm went off, it would be easier to direct everyone with more marshals."
Rajkiran is a first-year student so has found the job beneficial whilst her course is fully online. She said: "It has been nice to actually be on campus and familiarise myself with the building. It's also been nice meeting other students at work as that's difficult now due to covid."
She added: "It's more difficult to find a job, even part time. I work because I need the money just to cover what my student loan doesn't, so the cut in jobs has affected me. I have not been cut off completely, I should be able to come back when they need more people."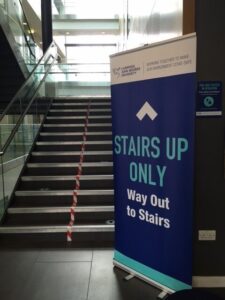 Robyn Foster, who works two and a half days as a marshal, said: "I think eight people was a better amount of staff because it meant more people communicating. I think we need more people at the entrances and exits to the buildings."
The 24-year-old said the cuts are not going to affect her too much since she has another job but has been reduced to one day a week. On the future of the marshal role she said: "I think it depends on the university and whether or not they feel that we are necessary. It is a short-term position which makes it even more uncertain."
Liverpool John Moores University said they have had a lot of requests for comment but are choosing to contact staff and students directly with concerns.