David Cameron has been given the thumbs-down by the people of Liverpool as his ability to govern Britain comes under scrutiny.
An exclusive investigation by a team of 100 reporters from JMU Journalism out on the city's streets this week has found just under 75% of those interviewed feel he is not doing a good job as Prime Minister, 17 months into his tenure as leader of the Coalition Government.
Betty Hudson, from Crosby, spoke for many of those we polled when she said: "The country is suffering even more from his leadership than it was before he came in. Get rid now."
Just 70 people out of the 396 we questioned gave Mr Cameron any support. Jane Lloyd, from Warrington, said: "He's doing a good job, taking into consideration the awful state of the country's financial situation he inherited from ten years of Labour government."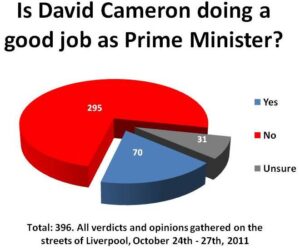 Cameron's reign as the first Conservative Prime Minister in the 21st Century has been punctuated with a series of crises, both domestically and internationally, which have tested his suitability to lead the country.
The defining policy of his time in office so far has been the austerity measures put in place by his Chancellor, George Osborne, in 2010 to cut public spending by £81bn over four years. These deep spending cuts, designed to reduce Britain's structural debt, have impacted on households across the nation.
The Conservatives, who have for decades been deeply unpopular in Liverpool, had some measure of support in our street poll, but the overwhelming majority felt Mr Cameron is not adequately handling the issues he faces.
"I think he's gone about tackling the debt crisis the wrong way," said Tom McFadden. "Instead of trying to grow ourselves out of recession, he has made so many cuts we are on the brink of another." Another said: "I think he has the economic policy completely out of balance and pays no regard to the social consequences of what he's doing."
The Coalition Government also had to deal with the phone hacking scandal, and civil disobedience as rioters took to the streets in a host of cities across England in August this year, as well as the economic crisis currently engulfing the Eurozone.
The MP for Witney also came in for criticism for raising students' tuition fees to £9,000 per year. Caroline Loughrey, from Ireland, said: "He's not doing a good job for the students is he? My grandson is going to university in a few years' time, where's he going to get £9,000 per year? Look at the cost of living. Coming out £30-40,000 in debt, it's an awful lot for children and getting no job out of it."
In a separate snap poll conducted by JMU Journalism this week, we also asked 110 people if they thought Britain should withdraw from the European Union, with 74 (67%) stating 'yes' and 36 (33%) in favour of remaining in the EU.
Additional reporting by: Bobbie-Leigh Gallivan-Jones; Ida Husoy; Aimee Jones; Lisa Kerr; Jack Maguire;
Jade Masri; Nathan McCrae; Harriet Midgley; Caroline Moore; Georgina Moore; Amy O'Reilly; Nathan Pearce; Julianna Petkovich; Laura Ryder; Nick Seddon; William Shaw; Jessica Watters; Hollie Howitt; Gemma Brezinski; Stephen Corbett; Karl Cryer; Christopher Cunningham; Ian Pemberton; Lauren Percy; Nathan Potter; Shannyn Quinn; Sarah Raynard; Claire Reid; Rachael Roberts; James Routledge; Gemma Sherlock; James Truesdale; Joshua Weale; Bethany Wells; Victoria Wilson-Parry; Laura Beddows; Lucia Campolucci-Bordi; Liberty Chrismas; Kerryleigh Gough; Aimee Hamilton; Jessica Hayes; Helen Healy; Nadine Higham; Jack Horrocks; Michael Houghton; Stuart Irving; Liam Jones; Lisa Jones; Jessica Judge; Chelsie Kirman; Damian Leonard; Jennifer Letford; Grace Lindsey; Tito May; Jessica MacDonald; Ryan McElroy; Paul McIntyre; Sarah Mee; Loren Mitchell; Duncan Moores; Hannah Newman-Jones; Callum Newton; Valum Shuker; Rhiannon McKean; Alexandra Allen; Patrick Arnold; Ryan Aujla; Bethany Avison; Jessica Ball; Lucy Bannister; Leanne Bates; Lewis Bell; Jack Birch; Abigail Bramhall; Poppy Burns; Claire Bynoe; Lauren Cordelle; Sophie Crawford; Elen Crean; Alisha Daya; Michael Deburca; Chantal Dickinson; Niall Dudley; Aidan Dunlop; Simone Foggin; Daniel Gibson; Bill Evans; Anna Malone; Rona Kirwan; Erin McLoughlin; Scott Girling-Heathcote; Adam Nash; Priyanka Zaveri; Havard Wattum; Dave Downie; Hugh Currell; Sophie Fairclough; Camilla Cole.