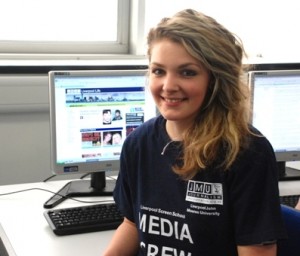 Name:  Victoria Josephine Fode
Age: 22
Nationality: German
Home town: Berlin
Why did you decide to come to Liverpool?
My dad has always been a Reds supporter and when he saw that Liverpool was one of the university choices, the decision was pretty much made for me. I never regretted it though.
What is your favourite place in Liverpool?
For me the best place to just get away from everything for a few minutes is the little park behind St. George's Hall, especially during the winter when all the trees are lit up. The most amazing view though, is the one you get from the top of the Radio City tower; it's always that moment again, when you realise how gorgeous Liverpool actually is.
What is the biggest difference between your hometown and Liverpool?
Being used to reserved, sometimes even uncaring Germans, it was a complete culture shock arriving in Liverpool. People talk! Everywhere; on the bus, on the streets, in the pubs. Hardly one day passes without talking to someone you've never spoken to before. Helpful, friendly, a bit scary maybe, but lovable and interesting; – as long as you are able to understand this gobbledygook of language, which I wasn't able to at all.
What was the most exciting moment for you since you came to Liverpool?
It's all been pretty exciting – meeting a few Liverpool FC players, working at the Guardian and in the Radio City Tower, and most importantly meeting some of the most amazing people ever… my lovely mates.
What was the strangest thing you came across during your time in the UK?
There have been a few things and I don't think I have seen all of it yet. Some of the food is rather hard to get used to, but funny to look at. The lack of clothes you see on a night out is a highlight, as is the Scouse accent, which you learn to love after a while. Also, the fact that a lot of young people look a lot older than they actually are, which could be a result of their tangerine skin colour. And I'm still getting asked for ID.
Any especially funny moments you can recall?
I remember going to the pub for one of the first times, which was quite an experience in itself, and being asked by the barman if I was "alright". Why did he ask me, if I was ok? Did I look like I was lost? Did I look like I've just been mugged? I must have had a very confused expression on my face, so he asked again. Actually I wasn't "alright", and that's what I told him. Now he adopted my confusion. It took me a few days to realise that it was just another way of saying "Hello, what can I get you?" (or something like that.)
Other language riddles included "cheers" for saying thank you, "lads" for mates and one of my Irish favourites " What's the craic?", at which point I thought my flat mate was going to sell me drugs. But my favourite faux pas happened when I went to get my keys repaired, but instead of saying to the man behind the counter that my fob wasn't working properly, my brain replaced "fob" with another, quite similar sounding, expression for male genitals. Again, I was witness to a very confused facial expression!
What advice can you give other international students who come to Liverpool?
Don't be afraid of the dark when you decide to move to Liverpool, there is always a golden sky at the end of the storm. Grow up and learn to stand on your own two feet.
Victoria graduated in July 2010