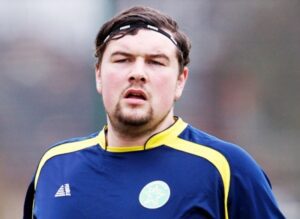 Name:  Tróndur Arge
Age: 25
Nationality: Faroese
Hometown: Faroe Islands
Why did you decide to come to Liverpool?
Most of the people from the Faroe islands go to Denmark to study, because we are part of their kingdom even though we have our own government, but I wanted to improve my English and do something different. I already knew Liverpool for a few years back when my sister studied here so I thought this would be a great place to come. Also, I'm a big Liverpool supporter.
What is the biggest difference between Liverpool and your hometown?
The weather in the Faroe islands is a lot more intense, they say that if you were to take a 20-minute walk you could go through all four seasons of the year in those 20 minutes; it will start of okay, then get really warm and then suddenly pour down with rain and get very windy. When you dress you have to take that into consideration and wear lots of layers so that you are prepared for anything.
Although the Faroese are very friendly people, the people here in Liverpool are all so nice – you can say hello to them all and ask them something and they will help you out. I think they're all very friendly. Also, the shopping opportunities are so much better here.
What is special about your home country?
The Faroe Islands were voted the most beautiful island destination by the National Geographic Traveller magazine in 2007, it really is a very beautiful place to grow up in.
What was the most exciting moment for you since you came to Liverpool?
I went to the Man City v. Arsenal game with Gunnar Nielsen (the third goal keeper at Man City who also plays for the national team) That was pretty cool, it was a fun game to watch.
Is there anything that strikes you as odd since you've arrived in the UK?
Nothing too odd, but I've noticed that people explain things over and over again. And I know they're trying to be polite and it's important that you do things right – but back home we don't do that – you're told once and that's that.
What is your favourite place in Liverpool?
The Liverpool One area is great, I love shopping even though I don't even buy stuff, but I like going out walking about and seeing people being happy and minding their own business.
Of course Anfield is another favourite – I've been twice, Liverpool winning each time!
Tróndur graduated in July 2012