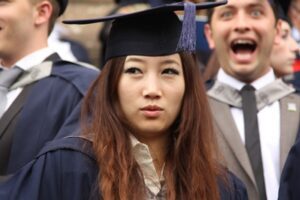 Name: Shan Gao
Age: 21
Nationality: Chinese
Hometown: Beijing
Why did you decide to come to Liverpool?
It's a city full of history and arts and the people here are so friendly. I still think Liverpool was the best choice.
What is the biggest difference between Liverpool and your hometown?
Compared to Beijing, the major difference is the culture. It is not only the way people live, but also the way people think. I think Beijing is more like London; big and crowded.
What is your favourite place in Liverpool?
Wow… it's the Albert Dock area, with all the museums and great views.
What is special about your home country?
It has a population of over 1.3 million and people from different provinces have different accents.
What was the most exciting moment for you, since you came to Liverpool?
The moment when I arrived at the airport and actually saw the city from the air.
What was the strangest thing you came across during your time in the UK?
Oh, I have to say the food!
What advice can you give other international students who come to Liverpool?
Prepare to learn the Liverpool accent and how to cook, and then you will love it here.
Shan graduated in July 2011