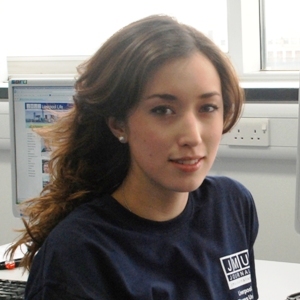 Name:  Samantha Clodagh Rogers
Age: 19
Nationality: Mexican
Home town:  Mexico City
Why did you decide to come to Liverpool?
International Journalism – It was either Liverpool or Preston and I love LFC (mostly because of Torres and Xabi) and I grew up listening to the Beatles, so I felt like I already knew Liverpool somehow.
Does living in Liverpool meet the expectations you had before you moved to the UK?
I don't even know what I was expecting, but when I got off the train I instantly loved Liverpool. The city centre is beautiful to me, and even though it's rough around the edges in some parts, I love it. It's a beautiful place with so much history, and so many different things going on – it truly is an exciting place to be.
What is your favourite place in Liverpool?
I can't really decide. It would either be Abercromby Square in the summertime when students lounge around soaking up the sun and a couple of pints, or the Albert Dock, which still takes my breath away every time I see it. One of my new favourites is walking through Liverpool One once everything is shut – its like a modern ghost town, its stunning.
Bold Street would have to feature in my favourite places in Liverpool as well. It's always buzzing with activity and it's got some of my favourite shops too. When you walk up Bold Street and sun is starting to set and you see the bombed out church sitting at the top of the street… that's one of my all time favourite views.
What was the most exciting moment for you, since you came to Liverpool?
I was in the Aldham Robarts library when terrorist suspects were apprehended outside… that was kinda thrilling. Other days that stick out in my memory include the day I was made the Content Editor on this website. I got to participate in the One World Media Awards 2009 as well – meeting really interesting people, visiting the Observer and Guardian offices, and watching Channel 4 News go out live. Every day is exciting in its own way… university is about having fun, meeting new people and working hard. What can I say? These are exciting times…
What do you miss the most about your home country?
The food! (obviously my family and pets as well) but the food is what actually kills me. The first thing I do when I get home is go get tacos. Every time. It's become a sort of tradition.
What was the strangest thing you came across during your time in the UK?
Girls (and some guys, now that I think about it) who literally glow like oranges. I've never seen anything like that anywhere else in the world. Fancy dress nights were also an odd thing for me at the beginning, I didn't understand this need to go out in costumes on random nights. I have grown to accept it and love it. I can do army, school-girl, 70s, 80s, and zombie fancy dress on any given night!
What advice can you give other international students who come to Liverpool?
Don't be afraid to explore Liverpool. I always felt Merseyside in general has a bad rep for being 'rough' and quite dangerous, but I've found that it's a safe place if you take the appropriate precautions that you would take in any big city. So, just dare to explore and dare to learn about a completely different way of life than you're probably used to.
Sam graduated in July 2010