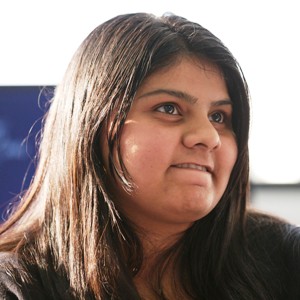 Name: Priyanka Zaveri
Age: 20
Nationality: Indian
Hometown: Chennai
Why did you decide to come to Liverpool?
I chose to come to Liverpool because I instinctively felt it was the best choice for me. There was a university education fair in India where I met the delegate from LJMU first and I remember thinking that I would end up going to the university that the first person I spoke to was from. And I was right. And I'm glad I was.
Tell us about your hometown…
Chennai is one of the four metropolitan cities in India. It is in the south and it is very hot, about 25C in the winter. It's also very crowded with tons of people.
What is the biggest difference between Liverpool and your hometown?
Liverpool is cleaner. The people are friendlier and helpful. I like the weather – it's nice and cool.
Does living in Liverpool meet the expectations you had before you moved here?
It does, it's better than I expected. I made a lot of friends, had a lot of fun and I am more independent and experienced.
What is special about your home country?
The first thing that comes to mind when I think of India is the sheer, overwhelming population. And that's what is so special about India. We're very hospitable, welcoming and loving people. One billion of us with different religions, customs and traditions wouldn't be able to live together harmoniously if we didn't have immense love and respect for each other.
People make up for all their faults and shortcomings by having the biggest hearts. The rest is what India is known for: we love to celebrate with songs and dance and colour. Nothing makes us happier than to live the fantastic larger-than-life Bollywood movie.
What is your favourite place in Liverpool?
The docks and Mathew Street are my favourites.
What do you miss the most about Liverpool when you are back home?
I miss the weather the most. At home, it's always hot, but I like the unpredictability of the English weather. I also miss my friends from here and the small things about day-to-day life, like taking the bus and having to cook for myself.
Priyanka graduated in July 2012