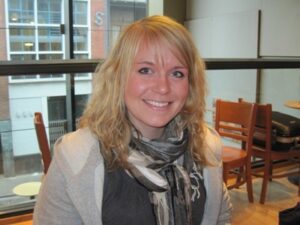 Name: Kristin Jacobsen
Age: 20
Nationality: Norwegian
Hometown: Grong
Why did you decide to come to Liverpool?
Because of the football team in Liverpool and I've been here four times before so I really love the city. I like the music, you know, The Beatles and The Wombats, the culture and the people and everything. I wanted to go to Liverpool so I looked at some courses here and international journalism seemed to suit me.
Does it meet expectations?
Yes, people are really nice and polite.
What is the biggest difference between Liverpool and your hometown?
It has to be the climate and the population, we have 2,500 people in my hometown so it's a lot smaller and in Liverpool you can do things whenever, 24 hours.
What's your favourite place in Liverpool?
It has to be Anfield! I have been to the Burnley game, the Preston game and the Hull game. They were all their home games. My father is a big fan so I kind of got it from him.
What is special about your home country?
We have lots of mountains and the landscape is beautiful.
What has been the most exciting moment for you, since you came to Liverpool?
I went to my first away game in Leeds to see Liverpool. We try to go to as many games as possible, it's kind of the money that stops us from going to every game.
What do you miss most about your home country?
I miss my family and my dog and the mountains and the fresh clear air in the mountains. It's not like Norway here.
What has been the strangest thing you have come across during your time in the UK?
Maybe it's really really old people going out. Seventy year old drunken people dancing everywhere, I think it's kind of the charm of Liverpool! The clothes too, the girls are really dressed up!
What other parts of the UK have you visited?
I've only been to Liverpool but when we went to the away game I saw a bit of Leeds and Huddersfield.
What advice can you give to other international students who come to Liverpool?
Don't be afraid to explore Liverpool and go out and have fun, meet the locals.
Kristin graduated in July 2012.