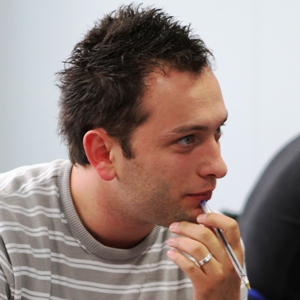 Name: Dawid Koziol
Age: 25
Nationality: Polish
Home town: Tarnow
Why did you decide to come to Liverpool?
Three years ago I didn't know Liverpool at all, I only knew it exists thanks to its football traditions. My girlfriend was studying at LJMU, and this is why we've decided to move here. Nevertheless, after a couple of years I got used to it.
What is your favourite place in Liverpool?
I haven't really got one. Perhaps Anfield, because of the atmosphere and also that I like to watch a good football match.
What is the biggest difference between your hometown and Liverpool?
People. Everywhere you go, there are buildings, cars, traditions and so on, however its people who makes a difference. What is the main distinction between locals in Liverpool and my home town? They speak different languages! But seriously, the lack of friends and family.
What was the most exciting moment for you since you came to Liverpool?
To tell the truth, first days at university were quite interesting. New people and new challenges. Weirdly, I quite enjoy doing a coursework… I know! I also enjoy being the International Editor of the JMU Journalism website.
What was the strangest thing you came across during your time in the UK?
Unquestionably sandwich with chips. What a combination – bread and potatoes – awful. I've also ended up with the nickname 'Cockney Dave', but I've still got no idea why. I had to go to Wikipedia to find out what a Cockney was.
Any especially funny moments you can recall?
Well, the most hilarious situation I've came across in Liverpool is the 'snow attack' last winter. In Poland, minus 30 degrees Celsius and heavy snow over winter months is nothing extraordinary. Mainly for this reason I couldn't believe how a few snowflakes completely paralysed almost half a million people in the city. I walked to the town centre on that day, as the busses weren't operating, and I couldn't believe that every shop, restaurant and even McDonalds was shut.
What advice can you give other international students who come to Liverpool?
There is nothing to be afraid of in Liverpool. It really is a lovely town with great history and even better nights out.
Dawid graduated in July 2011