Earlier this year, graduate Helen Dodd wrote about how 'JMU Journalism led to my job in politics'.
In the greatest sequel we have ever published, Birkenhead's best blogger comes back from decisive swing state Ohio with the remarkable tale of how she helped Barack Obama get re-elected, coming within touching distance of Mr President… and almost falling for him in the process.
Can JMU Journalism help make dreams come true?
Yes We Can.
Once in a lifetime opportunities are impossible to turn down, so when I was given the chance to work on Barack Obama's US Presidential Election campaign in America I felt I had to take it.
My trip was eventful before I even boarded my flight as Hurricane Sandy had just hit the States and as its devastation caused so much damage to lives and property, I feared my hopes were being blown away with it.
Although, of course, I realise it affected people in the US to an infinitely worse degree, I was still worried that it would prevent me from going on an adventure I had been excited about for weeks.
However, when the storm passed we got the green light and I got on the plane to Philadelphia and then to Ohio, full of anticipation.
Ohio was where I was based, in the key swing state which ultimately proved decisive on election night. No Republican has won Presidency without winning Ohio and I had to make sure that Mitt Romney didn't take this crucial state.
The world's eyes were focused on the Buckeye state and I just happened to be there, on my first ever trip to America. 'Exciting Times' doesn't even begin to describe it.
My trip there was mostly spent campaigning for Obama, pounding the pavements and knocking on Americans' front doors, also phoning them from the local Democratic Party headquarters to encourage them to vote.
I was a tiny part in the biggest event on earth at that time and to see 'real America' in Ohio's small towns and cities was amazing. I wouldn't have traded it for going to the Grand Canyon or New York.
I have campaigned in the UK on numerous occasions for the Labour Party and their connections with the Democrats led to my invitation to join their last-minute efforts and to see how it is done in America was absolutely fascinating. Everyone I met was so lovely… apart from the dog that attacked me.
One of the magic moments of my trip was seeing Barack (as I now call him!) speak at a rally in Hilliard. I was making sure everyone had signed their tickets for the event but after my work was done I got to watch the President's speech inside.
The atmosphere was electric and there he was, standing right in front of me. He later came into the crowd to thank everybody and I was suddenly within touching-distance of him.
I could have reached out for 'Handshake of the Century' but I would have fallen off the platform if I had and the fear of landing at Obama's feet held me back.
The highlights didn't stop there. I also got to see the President again at an arena concert with Jay-Z and Bruce Springsteen in the state capital, Columbus. I had to pinch myself to believe that I was actually there.
However, the biggest highlight of all was witnessing his victory at the Democrats' official election results party at the Hilton hotel.
Myself and the group I was with plus all the other campaign volunteers had worked so hard for this moment. Journalists were frantically working behind us and the reaction to his win was something that will stay with me for the rest of my life.
I would never have had this opportunity without being in the job I am in. I work for a Labour MP and we went on a Labour MP staff delegation unofficial visit. The trip was fully funded by myself and I used my annual leave to go as it was not a part of my job, though without it none of this would have happened.
For me JMU Journalism is where it all started and it is one of the best things I have been involved with. It gave me the confidence in myself and gave me real practical experience. I have a job I love and I believe my work on the website helped me to secure it.
As a young woman I have been very lucky in the things I have got to do since leaving university. I would encourage people to get involved with the website as it is a brilliant thing to have on your CV.
What I accomplished as part of JMU Journalism will always remain on my CV and it is still up there with other incredible things that have happened since.
Whilst campaigning over in America I thought back to the time at Edge Lane when I pitched an idea to invite President Obama over to Liverpool when he was in Britain on behalf of the JMU Journalism website. Although it seemed (and was) an impossible dream, we had a fun time trying to get this sensational project off the ground.
If someone had said to me then that I would be going over to work for him in less than two years' time that would have sounded just as unlikely.
To be a part of something so awesome as helping to re-elect a president and being at the heart of the action is something I will cherish forever and I have so many fond memories.
I landed back in England yesterday and came home to Merseyside buzzing though suffering with a huge cold, but as the campaign slogan goes, I am still fired up and ready to go.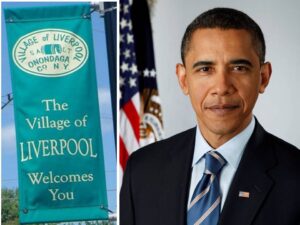 JMU Journalism investigates how Liverpool, USA reacted to Obama's win >>