Drag kings took centre stage as this year's Homotopia festival got underway in the city.
As part of the 2020 festival, the Mooncup Theatre wanted to show how drag kings have a place in the world of gender bending.
Drag kings are a new wave of performers where female artists display masculine stereotypes through boyish clothing and mannerisms. As a form of gender bending, this defies or challenges traditional notions of gender, especially in regards to dress or behaviour. For most performing at the weekend this meant drawing on beards, wearing men's clothing and walking with their toes pointing outwards.
The 'binary breaking' workshop encouraged people to embrace their alter-egos and express their identity through outfit and appearance.
Grace Goulding was amongst the dance act and brought her alter ago Barry Bara Birth along. The 32-year-old feels that by dressing up and understanding the opposite sex, it makes people more equal. The theatre movement director explained how this was different to anything she had done before.
She said: "It was really interesting and physically quite liberating to be somebody else. Not to pretend to be them in terms of characterisation and presenting on stage, it was just being a man so it meant that everything you did was very different to the way you would normally do it.
"I was just really intrigued by it. Everyone should have a go at gender bending."
The 'genderland' exercise was hosted by drag king group The Spice Boys: Isobel Balchin as 'Walter Ego', Martyna Puciato as 'Uncle Martin' and Rebecca Clarke as 'Ryan'.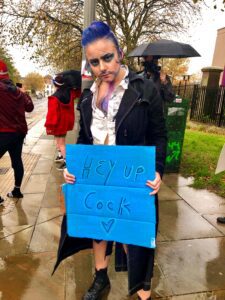 The Spice Boys started at 2pm with a choreographed dance outside the Metropolitan Cathedral, joined by some brave people who had never done drag before. From there they paraded down Hope Street to the Anglican Cathedral performing Gloria Gaynor's club classic 'I Am What I Am'.
For Amelia Scott, who also took part in the performance, gender is defined as "expression". She said: "Gender is whatever you want it to be and whatever is within you. For every person that's different and that's beautiful."
The 21-year-old fine art student created her drag persona Man Go On The Moon to "bring out inner empowerment". Asked what it means to be a woman, Amelia replied: "It's femininity in a beautiful strong and powerful way.
"It's receptivity, to be kind and nurturing but within that as well there's also an inner power to be a woman that doesn't necessarily mean to be passive, it can mean being really strong."
Homotopia is a Liverpool based organisation where every November since 2004 they present a festival of local, national and international events to celebrate LGBTQIA arts and culture.