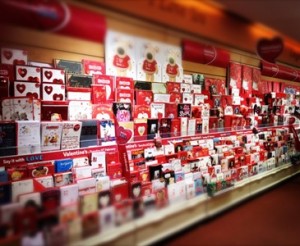 Is Valentine's Day really the most romantic day of the year, or is it just another opportunity for greetings card companies to boost their sales after Christmas?
Shops in the city centre have been packed with soppy cards and cuddly toys for weeks and florists are brimming with red rose bouquets fresh for the lovers' holiday, but the opinions of shoppers in Liverpool on whether the day of romance has been replaced by consumerism are rather split.
Someone who enjoys spoiling that special someone is 22-year-old Jessica Rice from Walton, who told JMU Journalism: "I love Valentines Day. I think it's the onetime when I can spoil my boyfriend and we actually make the effort to spend quality time together. I love spending money picking up little presents for him and picking a nice card. We normally go for a meal, or if we have saved up we have a weekend away."
Opposing her opinion is David Haig, 26, from Tuebrook, as he told JMU Journalism: "I can't stand Valentine's Day. My girlfriend goes mad because I hate buying a card and trying to find a present she will like, especially so close after Christmas! I feel forced into spending money, it's not really about the romance any more."
JMU Journalism Radio: Valentine's Day views in Liverpool
Valentine's Day views in Liverpool
In agreement was Tom Cotter, from West Derby, who said: "It's definitely not about the romance any more, it's about spending loads of money on a big present and flowers, which are so expensive. I couldn't believe it when I bought them for my girlfriend last year. I'm not doing it again this year… she will have to make do with what she gets!"
But 31-year-old Carly Adams of Crosby thinks people should stop taking it so seriously and enjoy the day: "I think Valentine's is a nice day, it makes you appreciate your partner and you get spoilt. I think people think about it too much now, you should just look forward to it and be romantic. It's only one day."
A man whose sentiments most women will hope/wish their partner shares is Paul Johnson from Litherland. He told JMU Journalism: "I think it's a good thing. I love my girlfriend to bits so why shouldn't I spoil her at least one day in the year?"
Despite opinions around Liverpool, nearly one billion Valentine's cards are sent a year, coming a close second after Christmas, as the largest seasonal card-sending occasion.
But, with more than 50% of them bought the week of the occasion, and just less than 14% of them sold the day after when they are marked half-price, has it become a date that is dreaded by couples, or is it the one day of the year that relationships actually are red hot?