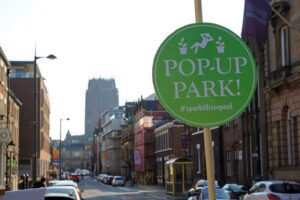 Cars in the city centre are to be substituted for temporary pop-up installations in a bid to help Liverpool 'build, back, better' after Covid-19. 
In an event called sParkit inspired by volunteer group Transition Liverpool, parking spaces across the city will be transformed into galleries, gardens and other green spaces that inspire thought for change in the way we use our urban outdoor space.  
The project is designed to celebrate imagination and foster collaboration between independent businesses and creatives to help build stronger community networks and provide more opportunities for training, employment and volunteering within the region. 
Event organiser Paul Riley said: "I hope sParkit will be a catalyst for change in the city.  I see it as being a gate-way drug for urban transformation that gives people little ideas and empowers them to think differently about the future." 
The initial event is set to take place in June 2021 and will provide 30 independent businesses and community organisations on Hope Street the opportunity to build their own pop-up infrastructure. Through the design of each installation, creatives and independents will be able to draw public attention to local produce. 
Said Mr Riley: "It's all about community wealth building. We're trying to create more opportunities for people to get involved with more organisations. This way we create accidental activists and get the right people thinking about what they want a sustainable future to look like" 
Transition Liverpool aim to give local businesses the chance to "reclaim the streets."

Our reporter Jack Playle has more in this video pic.twitter.com/fqGFrMpKjf

— Liverpool Life (@LivLifeMagazine) November 3, 2020
We Mean Business, a coalition of leading companies that are committing to climate action through partner initiatives, believe the decisions that governments make now will lock in the strategic direction of companies and economies for years to come. They believe pairing recovery action with climate action will ensure that economies can recover stronger than before. 
They're calling for longer-term economic incentives to be screened through the lens of climate and resilience action like sParkit. The sorts of projects that will support artists and creatives to re-imagine civic space and promote social cohesion in a way that advocates a sustainable future.
Han Duijevendak, a volunteer for Transition Liverpool, said: "We're hoping that sParkit will create a change in mind-set of both customers and business operators, to become less reliant on cars. A more pedestrian-friendly city-centre will be good for all business in Liverpool." 
sParkit aims to get people thinking about environmental issues such as clean air and easy access to local produce.  
The Annexe is home to many small creative businesses on Hope Street and is currently preparing for next year's event. Building manager Joanne McMahon said: "The project should be a fun way of lifting people's spirits
"Our installation could be really useful to us. It should create a more sociable space that will not only engage more interaction but give passers-by a better insight into what goes on within businesses like ours."  
Listen as Jack Playle gets the lowdown on sParkit>>>
*You can support the sParkit Liverpool crowdfunder HERE.