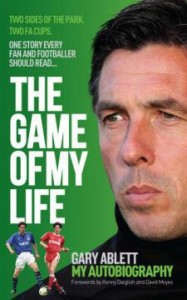 Three months after the loss of ex-Liverpool and Everton footballer husband Gary, Jacqueline Ablett has decided to release the autobiography he wrote whilst battling cancer.
Ablett, the only player to win the FA Cup with both Merseyside clubs, sadly lost his 16-month battle with non-Hodgkin lymphoma, in January this year.
Wife Jaqueline told JMU Journalism Gary would "never forgive me" if she didn't complete the book he had started writing to document his thoughts and memories.
At the young age of just 46 years' old, Gary left behind his devastated wife Jaqueline, 16-year-old daughter Scarlet and sons Reece, 15 and Riley, 11.
Whilst suffering with his illness Gary penned his autobiography, 'The Game Of My Life", and his deeply moving memoirs describe in detail how he coped with cancer.
Gary was admired by many in Merseyside, having the rare appeal of having had of a distinguished career on both sides of Stanley Park. That affection was especially
apparent as the book, which was released on April 16th, sold out everywhere on the morning of its release.
Jacqueline, who refers to him as her 'soulmate', had the difficult job of writing the final chapter of the book after husband Gary passed away. She told JMU Journalism: "When Gary was alive and writing the book I found it very difficult to talk about his illness but he wanted me to give my point of view.
"When he passed away and the book was nearly finished I just told myself I had to finish it, I had to do it for Gary. There was no question whether I wanted to release it, I'm sure there would be mirrors being smashed in our house if not, he would never forgive me!"
Whilst suffering with cancer the doting dad was "always positive and optimistic", his wife said, and he was always looking to do his bit for charity.
Jaqueline told JMU Journalism about his future plans: "Gary had this idea of starting a dress agency, with dresses donated from footballers wives and the proceeds would go to charity. I looked at him as if he was nuts but he had this idea in his head. Gary then got the call to go to Ipswich and work with Roy [Keane] so the plans never went any further."
However, Gary's dreams are now coming true and his daughter Scarlet, who was studying fashion at college, is now opening 'SO Ablett' dress agency in her dad's memory.
Jaqueline told JMU Journalism about their new venture, which is revealed in the book's final chapter: "Scarlet was studying fashion at college and she came up with the idea one day, I said to her funnily enough your dad had had this idea before. In a way Gary planted the seed and now Scarlet is carrying it on for him."
'SO Ablett', will have a fitting logo in memory of the former Everton and Liverpool defender; a purple heart, the result of mixing the blue and red of Merseyside.