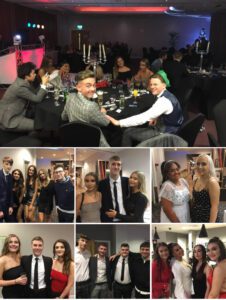 The party season kicked off in style as the fifth annual JMU Journalism Christmas Ball heralded the start of the festive period.
Spirits were high and so was the level of generosity on display, as students and staff managed to raise £1,011 for our chosen charity, Macmillan Cancer Support.
Liverpool's Holiday Inn hosted the celebration, with many memorable moments to look back on after a night of dancing, drinking and dining.
Ball organiser, John Mathews, said: "The students really seemed to have a great time and it makes all the effort that goes into making it happen worthwhile."
Facebook: Photos from 2019 JMU Journalism Christmas Ball >>
Twitter: JMU Journalism
The party is getting started at the 2019 @JMUJournalism Christmas Ball in aid of @macmillancancer pic.twitter.com/j4vxhBjyaj

— JMU Journalism (@JMUJournalism) November 27, 2019
More guests arriving at the 2019 @JMUJournalism Christmas Ball pic.twitter.com/18UOnkv4Pk

— JMU Journalism (@JMUJournalism) November 27, 2019
Even more lovely guests arriving at the 2019 @JMUJournalism Christmas Ball pic.twitter.com/d9Yk1HYkk7

— JMU Journalism (@JMUJournalism) November 27, 2019
The 2019 @JMUJournalism Christmas Ball raised £1,011 for @macmillancancer – well done everyone!

— JMU Journalism (@JMUJournalism) November 27, 2019
Great night @JMUJournalism Christmas Ball 2019 in aid of @macmillancancer – goodnight! pic.twitter.com/zqCTXL7gf4

— JMU Journalism (@JMUJournalism) November 27, 2019