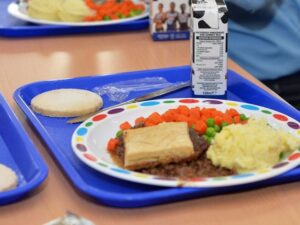 Liverpool City Council has extended the free school meal voucher scheme during the February half term.
Over 20,000 children will receive vouchers of £15 to help them through the week long break. The vouchers can be used in Asda, Tesco, Sainsbury's and Morrisons and will be given out by schools.
The money comes from the Covid Winter Grant Scheme and now reaches those receiving free early education. Households getting council tax and housing benefit support now get the voucher through the mail. 
Acting Mayor of Liverpool City Council, Wendy Simon said: "Making sure that children are fed and are fed well is a priority for Liverpool City Council. This is why we committed part of the Covid Winter Grant to funding vouchers for children during February half-term.
"The vouchers mean that families can choose their own food from their regular supermarket and be ensured that it is good quality."
Children as young will receiev support as well as  young people leaving care who can receive the food vouchers along with fuel money.
However, while the half term extension will be welcomed by those who will benefit, there are some who feel it's still not enough for struggling families. 
Chris Brown started The Holiday Hunger project in 2018 to help children that rely on free school meals. 
Mr Brown said: "It does help, however there are a lot of families who have fallen into this bracket of relying on people like ourselves who don't really qualify for these vouchers, so it has opened up a bigger spectrum of people needing these services.
"There are families who are still furloughed, single parents, or those who have multiple jobs, who don't need universal credit and so don't qualify for free school meals but need to be supported."
Work to feed young people during the Covid-19 pandemic has been ongoing prior to the Covid Winter Grant Scheme. The Holiday Hunger Project has delivered over 10,000 meals througout lockdown and raised thousands of donations for local community centres.
Mr Brown said: "We have been working with the council and the 23 Foundation and they fund us to keep on feeding local centres, so there is definitely still a need out there even without these vouchers."
There is hope for more community centre funds from the government to help more people who genuinely need it.
Mr Brown said: "Community centres know who needs the help. They have the details about the families so they can identify what they do and don't need. I think the government should give them more support. When we give money to these centres we know it's going to the right people."