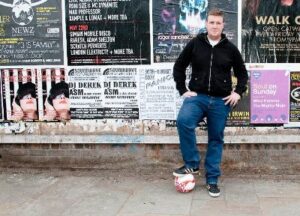 What started out as a laugh with a mate in a shop, then became a huge internet hit, is now a way of life for Scouse impressionist, Darren Farley.
Darren, Kensington-born and a massive LFC fan, only started his impressions joking around, and never did he dream that it could be so successful. However, when someone captured his uncanny ability to mimic famous footballers on camera and uploaded it to YouTube, the viewers just kept coming.
He told JMU Journalism: "It's been madness, to be honest. I was messing around in a local newsagents with an old school friend and he knew I had done a few impressions back in school so he just started filming me, and that was it.
"The first time I heard that it was going round was when someone posted the link to me. It was on 35,000 hits and I was stunned. Everyone was buzzing about it and then it just went mental, it hit one million views in a month. I told my mum and she said to me: 'One million hits or not you're still taking the binbags out!'"
Now, the clip has had more than 3 million hits combined, and the former landscape gardener's life couldn't be any more different, as he has become a famous face around Liverpool. He said: "I get recognised a bit and sometimes when I'm out and about people will ask for a photo; I find that amazing and complimentary.
"Of course, I get asked to do an impression and I don't have a problem with that in the slightest. These are the people who have helped my new career by watching my videos so I am very grateful to them and if they want a hug, why not?"
Darren, who appeared in the LFC film '15 Minutes That Shook The World' alongside Steven Gerrard and Jamie Carragher, admits he doesn't worry about upsetting the people he impersonates.
He said with a smile: "I've met quite a few of them now and they're all brilliant about it. Steven Gerrard, Jamie Carragher and Rafa Benitez are all really nice people; they've always been brilliant with me and I really appreciate that. Footballers have it too easy in my opinion… and I'm going to change that!"
He spoke to JMU Journalism after his latest video, 'A World Without Football', has racked up more than 72,000 hits in its first month on YouTube. His new creation gives an insight into what jobs professionals,  such as Wayne Rooney, Steven Gerrard and David Beckham might be doing if football didn't exist.
The 26-year-old funny man said: "It was something  myself and my manager had talked about for a long time. We looked at what the outlook would be for these great celebrated characters if football didn't exist. We loved the idea so much that we decided to put a trailer together.
"We feel as though this could become a series following these characters through their daily struggles, with more joining the show week after week. It's more pointing at them and saying: 'You're very lucky, this is what could have happened..' and, more importantly, taking the mick out of them."
Darren is now doing a job that he loves, as he has recently started working on an exciting new project at Liverpool FC being a part of their Anfield stadium tours, which he admits "as a big Red is an honour".
He also has hopes of one day becoming a TV star, as he told JMU Journalism: "When I was a young lad I was obsessed with comedy. I loved Harry Enfield and the characters he created, that was my sort of thing and I feel very relaxed in front of a camera. One day I would love to get something on the telly."