JMU Journalism embraced the spirit of Christmas this week as students and staff welcomed in December with a charity fundraising event for Macmillan Cancer Support.
More than 50 people donned Christmas jumpers, seasonal outfits or fancy dress for the final Advanced Journalism Practice newsdays of the year, collecting money along the way with food sales, sponsorship and cash donations.
Aside from the colourful and inventive festive fashion parade, the Class of 2015 raised £285 for Macmillan, beating last year's total of £200.
Class of 2014 graduate Lauren Cordelle, who first came up with the idea, said: "I'm really pleased that JMU Journalism students have continued with the fundraiser.
"Macmillan's an amazing charity and helped my dad and my family through a very difficult time – just like they help every single person affected by cancer.
"With my fundraiser I originally only hoped to raise £50 to help the charity with the work that they do, but together we managed to collect £200.
"I'm delighted that even more has been raised this year. Well done third years! It's going to a more than worthy cause. Here's to many years of raising money for a fantastic charity."
A Christmas song was also recorded by JMU Journalism TV, the students judged lecturer John Mathews 'Best Dressed Cowboy' by a single vote in a thrilling democratic duel with Richard Rudin, but it was the utterly sensational appearance of 'Sassy Santa', Connor Dunn, that sent shockwaves throughout Redmonds.
Sassy Santa provided unforgettable scenes that will surely come to define the lasting memories of this reprise of what is now an annual tradition.
Olivia Swayne-Atherton, who picked up the baton along with Sarah Hancocks as this week's organisers, said: "I think carrying on from last year's group was great as we had a basis to start off. We knew that we wanted people to get into the Christmas spirit and it was great to see all the funny jumpers.
"With it being our last newsdays of this year it was nice to have sweets, treats and Christmas music on and just let everyone have some fun while we worked.
"People were so generous and donated everything they could. It was a huge group effort to do better than last year's total and I think we smashed it."
Click on a thumbnail to enlarge the images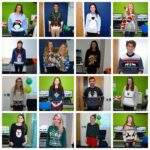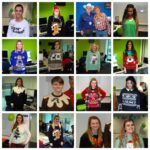 Christmas song by JMU Journalism TV