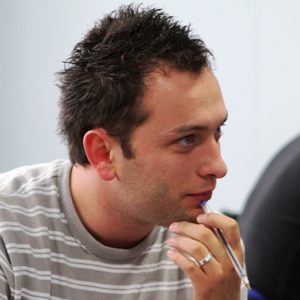 After hearing all about the great success of the JMU Journalism website team last year, the bar was set pretty high for the new squad when we reported for duty.
Last year, what became known as the Rocky III team did an exceptional job on the JMU Journalism website. Great stories, seemingly unachievable interviews and hard work resulted in the site being constantly updated with high-quality news stories, features, reviews and much more.
With that in mind, the Rocky IV media crew members were a little bit  apprehensive when we kicked off this year in the middle of September. However, after two months on the job, I'd say we've done a very good job so far. We're proud of the stories we've managed to publish up to now, but we're determined to find more.
But why would you ever want to be involved in the JMU Journalism Liverpool Life website in your third year of studies, especially if you have already got so much to do with your dissertation and other modules?
I had the opportunity to be a part of the JMU Journalism site last year but I never gave it a try. I just thought doing extra work and getting nothing in return was pointless… I could not have been more wrong.
Now, after being this site's International Editor for a short while,  I can finally see its real potential.
As a journalist at university level, you hardly ever have a chance to constantly publish your work like we do.
Believe it or not, as soon as you see your story appear on that homepage it really gets you going.  Working on exciting stories and interviewing celebrities is one thing, but when you get it published it takes it to another level.
I've enjoyed every minute of working for the site so far and  I'm pleased to have had my stories getting onto the homepage.
The story I am most proud of so far is an interview I did with Liverpool FC legend Jimmy Case. He told me that if the story wasn't going to be published anywhere he simply wouldn't bother. That's the biggest advantage of being part of a live working website.
My advice to students is that if you are seriously thinking about being a journalist, do not waste your chance to get on the 'groovy train'.