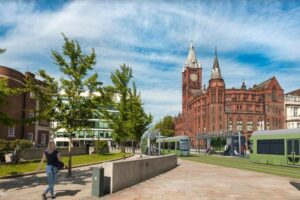 Proposals are taking shape for a new 'trackless electric tram' to link up Liverpool's Knowledge Quarter universities, the new Paddington Village Development and Lime Street Station.
As planners press on in a bid to make the tram system a reality, documents have shown that the new Paddington Line scheme could also extend to reach John Lennon Airport and Bramley Moore Dock.
Although the bold ideas are still some way from becoming concrete, the people behind them believe that the demand from potential customers is already there.
Knowledge Quarter bosses are seeking feedback and letters of support and its head of marketing, Sally Blood, explained: "Initially known as the Lime Line, this initiative was launched by Mayor Anderson at MIPIM UK in London in 2017.
"Following this we completed an in-depth demand study, carried out with consultants WSP, which concluded that as the University's Masterplans, new Health Campus and Paddington Village developments continue to progress there could be in excess of 1,000 extra trips, to and from the city centre per hour required during peak times."
"The Paddington Line has been designed to provide 'last mile' connectivity, joining Knowledge Quarter Liverpool to the places people commute to and travel in from, but with the scope to work across the entire city region.
YouTube: Charlotte Kenny
"Using a carbon neutral, rapid transit, trackless tram system, the Paddington Line would ultimately build on the success of the City Council, its Knowledge Quarter Mayoral Development Zone partners and the Metro Mayor's City Region Combined Authority funding at Paddington Village."
It is not known how much the idea would cost to bring to fruition, but some believe that the benefits to the city could be significant.
Business Desk journalist Neil Hodgson told JMU Journalism: "The proposed system wouldn't require the same amount of changes to the infrastructure compared with conventional tram networks, such as redirecting underground utilities, and could be easily extended to other parts of the city to add extra capacity for commuters, and tourists, alike.
"More importantly, it could offer an ideal link with Liverpool John Lennon Airport, which would benefit the Liverpool City Region, and airport, alike."