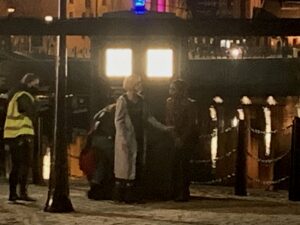 It is time to exterminate your boredom as Doctor Who has arrived in Liverpool.
People gathered at the Albert Dock to watch star Jodie Whittaker as the Time Lord and actor and comedian John Bishop as "Dan" shoot an opening scene of the new Doctor Who series.
The famous Tardis landed in Liverpool last night and will stay until Thursday to continue filming for the thirteenth series. The next destinations are set to include the museums on the waterfront, Mann Island and the Anglican Cathedral.
Super fan Connor Ward said: "Wow, I just cannot believe I was so lucky to watch this. I love Doctor Who, been a fan since I was little.
"I am so in love with the fact that Jodie is starring again. She is one of my favourite doctors, after David of course."
Scouse comedian Bishop recently tested positive for coronavirus but seemed in high spirits on the set. After his new role was announced, Bishop said in the Liverpool Echo: "If I could tell my younger self that one day I would be asked to step on board the Tardis, I would never have believed it.
"It an absolute dream come true to be joining Doctor Who and I couldn't wish for better company than Jodie and Mandip."
Programme boss Chris Chibnall said: "It's time for the next chapter of Doctor Who, and it starts with a man called Dan. Oh, we've had to keep this one secret for a long, long time.
"Our conversations started with John even before the pandemic hit. The character of Dan was built for him, and it's a joy to have him aboard the Tardis."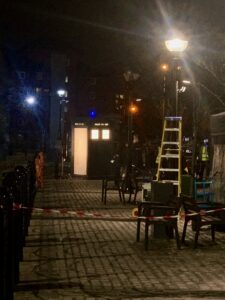 Passers-by claim they saw former show star Catherine Tate, who played Donna Noble in series four, in the city leading to rumours that she could be returning.
After Doctor Who and Tate started trending on twitter, it was suggested that she is in Liverpool for a Channel 4 comedy series and just so happens to be good friends with Bishop.
Rumours of Whittaker leaving the BBC series have not yet been confirmed or denied by the BBC after it was reportedly said that she told BBC bosses she won't be returning to the show following the conclusion of the upcoming series 13.
The BBC remain hopeful that the show will air in 2021 but the push back to 2022 is seemingly likely considering the last season took 11 months to shoot. If the usual 10-month film schedule goes ahead, the production will proceed to August 2021 and would probably air no earlier than late autumn/winter.
Along with Doctor Who there are currently three other productions being filmed across the city including popular TV series, Peaky Blinders.