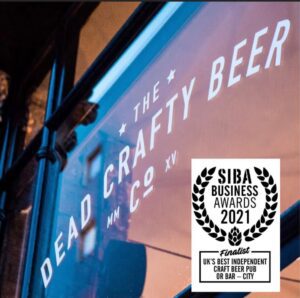 A Liverpool bar has picked up the UK's Best Independent Craft Beer Bar award.
The Dead Crafty Beer Co. on Dale Street scooped the inaugural award that recognises the work of independent breweries across the country.
The SIBA Awards celebrates breweries across a variety of categories and helps smaller concerns get their beer into bigger venues.
Vicky Morgan, co-owner of The Dead Crafty Beer Co. told JMU Journalism: "To get an award from SIBA is a bit like winning an OSCAR. It's the highest you can go in the beer world."
The bar would have been celebrating its fifth anniversary on the day of the awards, providing double reason to celebrate.
Co-owner Gareth Morgan said:  "It's a lot of hard work and it's great to be recognised for that. Especially the past year has been hard, we have basically had to rebuild the business and make it work for us and covid. Which we have. It was just great to get a nod."
The award has received  lots of reaction on social media from many of the bar's loyal customers from Liverpool and beyond.
Mr Morgan said: "The outpouring of support we have had from around the globe hasn't stopped. We had a lot of international customers when they could come. This is probably our biggest social media hit ever."
Five years ago the Liverpool couple took a trip to Texas where they bonded with a room full of strangers  over a bottle of beer. That's when they say the idea for the Dead Crafty Beer Co was hatched: "It was like nothing we had ever seen. It was like a proper community of strangers all becoming friends over beer. It was like a lightbulb moment. We said we are going to get on that plane, we are going to come home, write a business plan and open a bar."
The pair did just that, and The Dead Crafty Beer Co. was born. Mrs Morgan recalls the life changing moment: "It was never ever on our horizon. We had never thought of opening a bar. It was so weird the way it happened. As soon as I got off the plane I went to the women's organisation and they helped me write a business plan.
"It was just one of those things, as soon as we got off that plane, it was happening and it was out of our control almost."
Before settling on a location, the Morgan's deliberated a home bar and a pop-up bar.
Mrs Morgan said: "We then found our premises on Dale Street and it had been derelict for about 12 years. It just looked and felt right to us. We didn't want it to be this big showy fancy bar."
The pair say that the bar wouldn't be what it is today without its customers.
"They have created that sort of feeling of community. We can get all the beer and do as much as we can, but the community feel really is down to all of our customers. You might come in once on your own and sit at the bar, and someone will start a conversation with you, and next thing you'll be getting beers out of the fridge to split."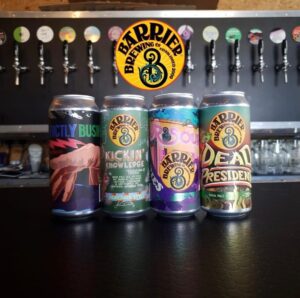 Not only are they adamant in creating a beer-focused atmosphere, the Morgans strive to create a vibe in which every aspect of the community can enjoy and relax in. They have a ladies beer drinking group called The Dead Crafty Chicks, which was started in order to stamp out the narrative and belief that beer is a 'man's drink'.
Mrs Morgan said: "We used to get people coming in going 'oh so what do the ladies drink in here then?' and I'd be like 'what all of these ladies are drinking…beer!'
"It's usually 75% male, and since we have done this, we are now pretty much a half and half ratio. Sometimes, on a Saturday night we even have more women in than men!
"We wanted an all-inclusive atmosphere, where nobody would feel stupid. It's all about making people feel comfortable and safe."
The business has had to adapt through the pandemic and the pair set up a beer delivery service through lockdown.
"We knew we were going to get locked down and we needed to do something quick, so overnight we created our beer delivery service and have been doing it ever since. We ship all across the world now."
Covid-19 may have a physical impact on the bar, but it has not touched their roaring, genuine passion for beer and what they do.
"The passion we have for the bar is infectious and some of our best friends were once customers. Proper community, it's a local's bar in a city centre environment.
"We honestly just want to get open and get everyone back in the bar as quick as we can."
The Dead Crafty Beer Co can be found at 92 Dale St, Liverpool L2 5TF. DOG FRIENDLY