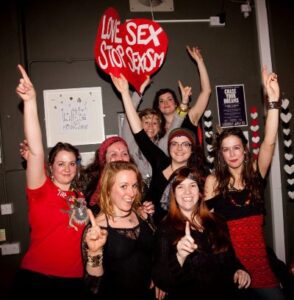 Liverpool dancers put their best feet forward to raise awareness of the campaign to fight violence towards women by using dance.
Across the globe, more than 200 countries signed up to take part in the first One Billion Rising event on Valentines Day, with activists, celebrities and political leaders joining in the dance
Starting in Samoa, the 48-hour long "rise" travelled across the world, through the Pacific Islands, Asia, Europe, Africa, and America.
Liverpool was one of many cities in the UK to take part in the event when organisers invited risers along to The Black-E on Great George Street.
The Liverpool fun began with a creative workshop at The Brink Liverpool.
Damien Kelly, Community Engagement Worker, told JMU Journalism: "It's an important issue that needs to be raised. We are honoured to be a part of such a big movement."
The second Liverpool rise began at 7pm with an open Zumba and World Dance class full of upbeat songs and dance routines celebrating women around the world.
Risers arrived in their hundreds wearing red and black to mark their support of the movement.
The Liverpool event even saw a marriage proposal when Ceri Black announced to risers: "Thank you for making my proposal so special tonight guys – she said yes!"
It was decided in 2011 that Liverpool would join One Billion Rising, when a meeting championed by local councillor Stella Creasy took place in the city.
Councillor Creasy announced at the meeting: "Sharon Green from Unison expressed an interest in members being able to mark OBRUK or participate in such an event in the city."
Rossana Abueva, a One Billion Rising UK organiser, told JMU journalism: "The invitation goes out to all women and men in the Northwest region who would like to rise up.
"The event can take any form – e.g. poetry reading, dance party, film showing, a theatrical staging of monologues, music/song, panel discussion, flash dance mob."
Celebrities that joined the rising include professional basketball player Royce White, actor Andre Royo and Atlanta Mayor Kasim Reed.