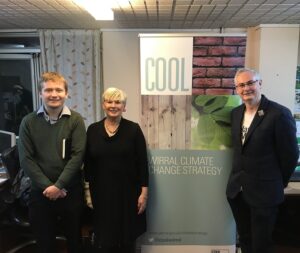 Ways to reduce the local carbon footprint through festive-themed activities were on the agenda at Cool Yule, as Wirral residents were urged to do their bit to help.
The event by Cool Wirral celebrated the progress of the existing strategy and discussed the direction of its replacement next summer when people gathered at the Wirral Environment Network building in Wallasey on Thursday.
A range of workshops was on offer, including a natural Christmas wreath-making session, energy-saving in the kitchen, and Santa's climate soapbox, where guests would talk about a climate-related topic for two-minutes.
Nick Drew, the coordinator for Liverpool year of action on environment 2019, told JMU Journalism: "Effectively there are eight aims. These include improving air quality, green space, habitats and bio-diversity, connecting and engaging communities with nature and reducing waste and water."
Cool Wirral, which launched in 2014, will host several events relating to the objectives in the new year. Mr Drew added: "It's about engaging the people of the city region on the topic of the environment, as it's a pivotal moment in history for the world right now."
YouTube: Ellie Watkinson
According to the World Meteorological Organization, the world is nearly one degree warmer since widespread industrialisation, meaning society is not on track to meet current climate change targets; information that
Bryan Lipscombe of Cool Wirral finds "depressing".
He explained that local efforts have been implemented, telling JMU Journalism: "We've seen thousands of LED street lights installed, new electric vehicle charging points and a new organisation – Wirral Community Renewables – set up amongst others.
"Changes in incentives and policy have had an impact of progression in some areas. The number of new solar panels installed fell after incentives were reduced."
Twitter: Ellie Watkinson