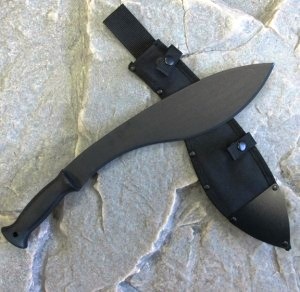 Staff working at a Co-operative food store in Huyton have been left shaken after the third armed robbery at the shop since November.
On Saturday night staff were targeted by three young men wearing black masks, one armed with a machete knife. They entered the store and grabbed hold of a female shop assistant as a man, armed with a machete, dragged her by the hair and forced her behind the till.
He then threatened her and another shop assistant, demanding that they open the till, warning that if either of them pressed the panic alarm he would: "Chop her head off."
The girls managed to remain composed as the gang then emptied the contents of the till, while a security guard was also threatened by the armed robbers.
All the while, shoppers stood in disbelief, while some ran off. All the staff were left uninjured, but clearly shaken by their experience. One of the female shop assistants. aged 20, told JMU Journalism: "I just feel sick, I can't believe what's happened. There are just some absolute scum out there. I never want to experience anything like that again."
With three recent robberies at this particular store and others on small shops in the area, community police have stepped up their night patrols.
A spokesman for Merseyside Police said: "Just before 9pm, three males armed with a large knife entered the Co-operative store on Pilch Lane and approached the counter. The males threatened the staff and demanded cash before assaulting them. The males made off on foot from the premises with cash and cigarettes.
"It is believed the offenders used a vehicle parked nearby to drive away from the area."
House-to-house enquiries have been undertaken, CCTV is being examined from the area and an investigation into the circumstances surrounding the incident is ongoing.
Detective Inspector John Webster, said: "Incidents of this nature are rare and I'm sure local residents would agree that those responsible need to be brought to justice."
He added: "This must have been a very frightening ordeal for the staff and I would appeal for anyone who has any information about this incident to contact 0151 777 6565, or Crimestoppers anonymously on 0800 555 111."