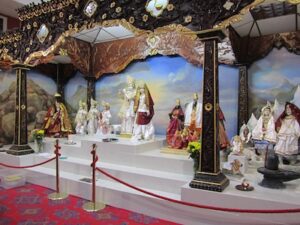 Over 200 people gathered to celebrate the Indian festival of Diwali at the Shri Radha Krishna temple, run by the Hindu Cultural Organisation at Edge Lane in Liverpool.
In India, Diwali is one of the biggest festivals,and is celebrated for various reasons.
The priest of the temple in Liverpool, Nutan Prakash, told JMU Journalism: "One of the two famous epics of Hindu mythology, Ramayana, is the tale of Lord Rama, the son of the king of a place called Dwaraka who was exiled, along with his wife and brother, for 14 years in a forest. The first reason is to celebrate the homecoming of Lord Rama."
The day that Diwali falls on is also the last day of the financial year, according to the Hindu calendar. Tradesmen usually tally their accounts on this day and clear all debts. Homes are cleaned and lamps are lit to welcome the new year.
Mr. Prakash added: "During Diwali, we pray to the Goddess of Wealth, so we may be blessed with prosperity, but we also pray to the Goddess of Knowledge, so She will give us the wisdom to manage our wealth properly."
The celebrations began as people were given turns to stand in front of the idols and pray. After that, sweets were handed out as prasad, which is food that is offered first to God so that it is blessed and then distributed.
Sunil Duklan, a resident of Liverpool who is a volunteer with the HCO, told JMU Journalism: "In India, we celebrate by lighting lamps at home and bursting fireworks. Here, we can burst crackers but not for too long as it disturbs other people. So, all of us coming together to the temple is the best way to celebrate."
The celebrations ended in LiverpoolInnovation Park, across the street from the temple, with a fireworks display that lasted 10 minutes.
When asked what he thought the best part of Diwali was, Lal Singh, a member of the HCO committee said: "The food! No Diwali is complete without sweets."