As the Ebola death toll mounts in Africa and the UK's chief medical adviser tells the country to expect "a handful of cases" to arrive in Britain in the coming months, fear of the deadly virus appearing on these shores has been increasing.
While it is unclear if the threat from Ebola is any more dangerous to the nation's health than other pandemic scares in recent years – such as swine flu and bird flu – there is little doubt that public concern has risen sharply over the past week.
To gauge local sentiments, JMU Journalism sent out a team of more than 70 reporters on Friday to ask 363 people in the city centre: "Are you afraid about the spread of Ebola reaching Liverpool?"
It was apparent that opinions were deeply divided, as 157 (43%) said 'yes' they were afraid, while 200 (55%) replied that they were not, and six people (2%) did not know either way.
Our exclusive street poll came in the wake of the news of an Ebola scare at Liverpool coach station in Norton Street on Wednesday night when a woman collapsed on a trip from London, sparking an immediate alert.
Police and ambulance staff were awaiting the arrival of the coach, and medics entered the bus wearing protective clothing before taking the woman to the Royal Liverpool University Hospital nearby. A spokesman for the hospital said it was soon established that she did not actually have Ebola.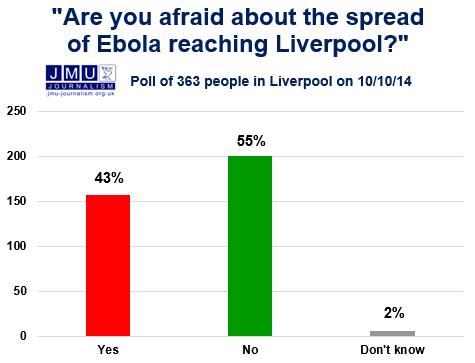 Earlier, it was announced that the Royal in Liverpool is one of four hospitals in the UK on standby in preparation for a potential Ebola outbreak, and this resulted in conflicting thoughts among those we spoke to in town.
While some expressed that the view that the relevant expertise here would leave Liverpudlians in safe hands should there be Ebola cases locally, others were fearful that being one of the centres earmarked to deal with a possible outbreak heightened the risk of the killer virus coming to Merseyside.
Brian Doran, 79, of West Derby told JMU Journalism: "Liverpool's the finest place. If you're going to get Ebola, be in Liverpool. We've got without doubt the best hospitals, I would probably say in the world. We've got the School of Tropical Medicine. We've got Alder Hey for children. They're magicians so I'm not worried about Ebola."
Retired infection control nurse, Janet Roberts, 69, of Wirral was not afraid, adding: "I hope that if it does [arrive here] that it could be contained, and after all it's the professor from the Liverpool School of Tropical Medicine that is leading the investigations and giving the advice."
However, 19-year-old Josh Hodkinson of Liverpool spoke for a number of our respondents when he admitted to being fearful, adding: "There are good facilities at the Royal Hospital if they treat it there, but it's scary that it could be right on our doorsteps."
Many told JMU Journalism that media hype had created much of the current public alarm, while some pinned their faith in the British authorities being able to contain the fallout of any threat to the United Kingdom. Elsewhere, a common response was: "I don't want to die."
Dame Sally Davies, the chief medical adviser to the UK government, told BBC News at the weekend: "It will not be surprising if we have spillover into this country so I would expect a handful of cases in the next few months."
Professor Tom Solomon, a top official at the Institute of Infection and Global Health, University of Liverpool, admitted that scenario was "probable", but told the Liverpool Echo: "We are ready to deal with it and we know how to deal with it when it comes and we won't have a massive outbreak like west Africa. Our systems and procedures are robust enough to cope with a case, if there is a case."
Scroll through the edited comments below to read the opinions of others in the JMU Journalism survey about the threat of Ebola reaching Liverpool.
Additional reporting by: Alice Kershaw; Josh Doherty; Tom Begbie; Jamie Charlesworth; Paige Freshwater;
Emma Bartley-Cassidy; Molly Copoc; Rebecca Cleverley; Nathan Archer; Jordan Reais; Hamish Ellwood; Rhys Edmondson; Cheyenne Hansen; Demi Cochrane; Lucy Fegan; Robert Grange; Alistair Baker; Cai Griffiths-Sturge; Grace Backshall; Lauren James; Amy Hendrie; Natalie McGill; James Jones; Laura Hughes; Lewis Jennings; Hollie Hayes; Sam Heyhirst; Kallem Morris; Matthew Maguire; Josh Hodge; James Harrison; Jess Harris; Arun Lal; Victoria Howkins; Gareth McCullough; Kriston Murphy; David Purcell; Connor Bennett; Julie Mandroyan;
Kerri Fitzpatrick; Lauren Walker; Paul Greenough; Bethany Vaughan; Sarah Williams; Amelia Eccleson-Davies; Gemma Abbey; Sachi Kondo; Damien Horwood; Isabel Eaton; Andrew Cook; Danyaal Yasin; Nuhamin Yadata; Alex Bradley; Liam Canning; Christella Twagirayezu; Oliver Burge; Sophie Watson; Lauren Reece; Matthew Skelly; Matthew Noonan; Amber Roberts; Gabrielle Walsh; Ellie Peters; Andrew Nuttall; Rosie Steedman; Nicole Quinn; Cieran Simpson; Aaliyah Rugg; Gabriella Sanghera; Jack Rhodes Bernays; Savannah Wylde; Iwan Ireland-Life; Alexander Turner.