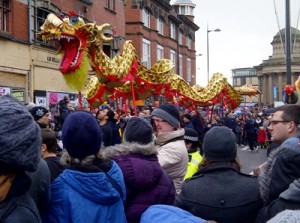 The Year of the Dragon was welcomed into Liverpool at the weekend as a 70ft dragon worked its way through Chinatown to mark the New Year.
Musical community organisation Urban Strawberry Lunch created the dragon out of old lanterns, fake fur, glitter balls and huge pipe cleaners.
The cold weather did not stop the celebrations as thousands of people lined the street to watch the parade pass through on its route which took in the length of Water Street, before passing through the Chinatown arch onto Nelson Street.
Liverpool's has especially strong ties to the country as the city has one of the oldest Chinese communities outside of China, and is linked to Shanghai in particular as they are twinned cities.
Managing director of Apartment Shanghai, Robb Pollard, told JMU Journalism how the event would be celebrated in Shanghai:  "As night progresses and it approaches New Year, similar to our New Year, countdown, and then fireworks roar on and on this doesn't stop for nearly one week. All the rituals are about getting out the bad and old, and bringing in the new and good."
http://www.youtube.com/watch?v=UYMOiktJDo0
A real carnival atmosphere was struck up during the celebrations in Liverpool through the fairground rides, food stalls and traditional Chinese lanterns being sent skywards, and there were plenty of restaurants and stalls welcoming crowds to Chinese delicacies and refreshments.
Boyu Xu, 22, of Shanghai told JMU Journalism: "I am very excited by this year's celebration, there are many people here and I am proud that they are all sharing in my country's heritage."
Other displays have been taking place throughout the week, including Tai Chi demonstrations and Dragon Dances preformed by groups working in the nearby 'Blackie' Activity Centre.