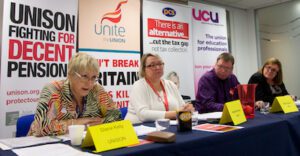 Liverpool is bracing itself for widespread disruption as the planned day of strike action by public sector workers is set to go ahead across the country on Wednesday.
In what will be the biggest coordinated industrial action seen in Britain for more than 30 years, over two million workers will go on strike, with around 170,000 workers in Merseyside refusing to work in protest at planned pension reforms.
Up to 12,000 people are expected to take part in a march through the city centre which will end with a rally at St George's Hall.
The majority of schools in the city will be closed, as well as all leisure centres, libraries and Sure Start centres. Travel chaos can also be expected as both tunnels, which are used by up to 95,000 cars per day, will also close, along with the Mersey ferries.
Merseyrail trains and privately-owned bus services will operate, but ticket offices won't be staffed. The city's courts will open for emergency cases only, and long delays are expected at John Lennon Airport.
At a press conference held in Unite's offices in the city centre, regional union leaders spelt out their why their members have voted to take industrial action.
Martin Kelsey from the Public and Commercial Services Union (PCSU), said: "It isn't public versus private. It's about the essential infrastructure of our nation and maintaining a decent society, particularly in areas like Merseyside where there is high unemployment."
Diane Kelly from Unison said public opinion is overwhelmingly on the side of the strikers, with new membership for her union up from 150 per day to 1,500.
In a JMU Journalism poll of 100 people in the city centre, 73% of those questioned said they backed the action, despite the fact that it is likely to cause chaos in town.
Earlier today, Chancellor George Osborne announced a pay rise cap of 1% for public sector staff for two years, which follows a two-year pay freeze.
This news did little to improve the outlook for those employed in the public sector and Nick Robinson, the BBC's Political Editor, tweeted:  "The Office for Budget Responsibility has massively increased its estimate of the public sector jobs expected to go. Previously, the figure was put at around 400,000 – it's now 710,000."
Local business leaders have estimated that the strike action could wipe millions of pounds from the region's economy.
Chief Treasury Secretary Danny Alexander warned at the weekend that the Government's offer of improved terms could be withdrawn if the proposed action went ahead, although this was quickly dismissed by union chiefs.