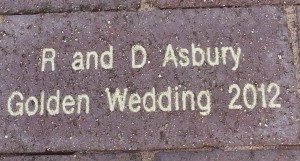 Celebrate Valentine's Day with a message to your loved one carved in stone.
Liverpool's Anglican Cathedral is offering personalised engraved bricks starting at £50. The bricks will be laid in the People's Path, an area of the cathedral grounds which is dedicated to the people of the city.
Andrea Young, Communications Officer at Liverpool Cathedral told JMU Journalism: "When the People's Path was launched, the Cathedral's Vice Dean and Canon Precentor Myles Davies said that he wanted the People's Path to become a rich tapestry, detailing life in, and connected to, Liverpool, and featuring people from all walks of life, from all over the world. That is exactly what has happened. People from as far as Australia, New Zealand and China have also purchased bricks in their family name."
The bricks – currently available in black, silver and gold – are to be laid within 13 weeks of placing an order but for those who want to treat their loved one to something unique on Valentine's Day, a gift certificate will be delivered before the special day for all orders placed before the 8th February. They will each be engraved with a personal inscription which can be chosen at the time of ordering.
Andrea said: "One couple used a brick to commemorate their marriage proposal at the Cathedral. The brick said 'Will you marry me?' and had the date of the proposal which took place at the Cathedral."
Personalised bricks have been popular within the cathedral for years, marking special occasions such as weddings, graduations and anniversaries, and money raised will contribute  towards the Cathedral Foundation which helps keep the Cathedral free to visitors and supports its development and work in the community.