The effects of Covid-19 have been felt globally, with many businesses having to close their doors for good and others forced to become creative.
April 12 is the date outlined by Prime Minister Boris Johnson when all non-essential shops are allowed to reopen, though it is still to be confirmed.
But many Liverpool businesses have felt the strain, with several much loved stores in the city centre being forced to close after the pressure of a third lockdown
Independent businesses in Liverpool are also struggling, with popular Baltic Triangle cafe/restaurant Siren, announcing via their social media last week that they will be closing for good.
However one business that is finding its way through these trying times is board games cafe, Sugar and Dice, located in the heart of Liverpool.
But it hasn't been easy. Rachel Button, director of Sugar and Dice told JMU Journalism: "It has been difficult. Our whole business is about socialising and getting groups of people together, so even when we have been allowed to open, there have been long periods of time where you're only allowed to meet your own household or you can't meet other people, so that's had a huge impact.
"Looking at the accounts, we are down like 65 percent on what we normally take and obviously that has an impact. I have had to let staff go sadly, so there are only two members of staff at the moment. But that has kept us going. Making those decisions, cutting staffing means that you are saving a lot of money, so that has kind of got us through."
"It has been tough, there have been quite a few moments where I've just wanted to say 'I'm not doing it anymore', but I feel like there is like at the end of the tunnel now."
The café opened in November 2016 and currently has a selection of 400-500 board games, ranging anywhere from family favourites like Scrabble, Monopoly and Cluedo, to modern titles such as Throw, Throw Burrito.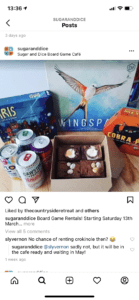 The Café has carried out many interactive activities throughout lockdown, including Zoom parties, an online shop for board games and most recently a board games rental scheme.
"People have been asking about rentals even before Covid, it's just something that people have always asked us about, but I have always been quite anti-rental schemes because it is just a logistical nightmare to be honest, some of the games have so many pieces.
"But with Covid and this lockdown being quite long, I just decided to go for it. I waited until now because I didn't want to encourage people to come out during a national lockdown, but now the restrictions are being sort of eased… so it kind of just felt like the right time
Hutton admitted the scheme wasn't really going to make the café much money but it "keeps people engaged in the idea" and keeps them "fresh in people's minds."
The café is hopeful of opening again in May. To find out more about Sugar and Dice and their rental scheme visit their website.
Listen to the interview with Rachel below>>>