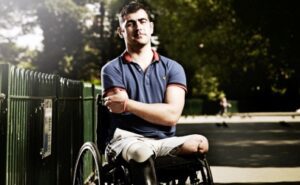 Inspirational army veteran Corporal Andy Reid is aiming to get up and running by taking some part in the St Helens 10k in March.
It would be a remarkable achievement for Andy given that only two-and-a-half years ago he lost both legs and his right arm from an IED (Improvised explosive device) explosion while serving on a tour of Afghanistan.
For the past few weeks Andy, of the 3rd Battalion Yorkshire Regiment, has been learning to use carbon fibre blades at Headley Court Army rehabilitation unit, in preparation for the GPW St Helens 10k run on 11 March, organised by another of the town's inspirational figures, cancer battler Steve Prescott MBE.
Andy said: The training is going alright. I got back on the blades this week after two weeks off, so it takes a bit of time getting back into it again. It's physically probably the most difficult thing I've done. I've done a bike ride before which was tiring but this is different because I'll be using muscles that I haven't used for a long time."
The 35-year-old is looking to do the children's 2k route five times rather than the outright strenuous 10k, and the St Helens RLFC fanatic is looking forward to completing the course, which finishes on the halfway line of the new Langtree Park Stadium, home to his beloved Saints.
It is an opportunity Andy is relishing: "It would be an amazing feeling running into the new stadium. I would never have thought that would have been possible two years ago, so it will be another tick in the box on the list of things I want to achieve."
Andy is hoping to raise in the region of £1,000 for soldiers charity ABF, which gives lifetime support to serving and retired soldiers and their families. It is close to Andy's heart and he was recently made a patron for the cause.