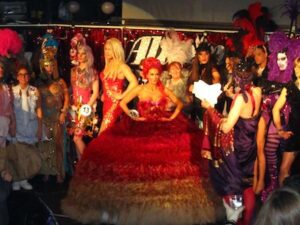 The first Alternative Miss Liverpool, part of Homotopia's month-long festival, drew over 20 contestants and a large gathering at the Kazimier.
It was a colourful event that started with a small dance performance to welcome the master of ceremonies for the evening, David Hoyle. The judges for the event were legendary actress, Fenella Fielding, Norwegian designer Borre Olsen (who designed the crown with Liverpool- based Hayley Marsden) and Andrew Logan, who founded the Alternative Miss World.
The judges were looking for participants who stood out with their stage performance, poise, personality and originality. The contestants delivered just that, working the catwalk with confidence and grace in costumes that ranged from elaborate and flamboyant to subtle.
There were some that stood out, like winner Miss Voodou, whose scarlet dress was designed by the people at Voodou. It was an impressive creation, with a huge skirt covered in locks of hair from red to blonde. When asked about it by MC Hoyle, she said: "It took 300 hours to make."
The other participants won over the judges with little anecdotes, like Miss Suzy Black, who recounted cross-dressing while alone at home at the age of 14. Some others, like Miss James Vivian, a Cher impersonator, talked about their reasons for entering the competition and explained their look.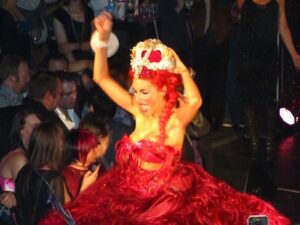 The judges deliberated during a short intermission, after which, La Gateau Chocolat took to the stage and had the gathering sing along to 'Nothing Compares to You'. The participants were narrowed down to ten finalists, who walked down the catwalk one more time to gain the favour of
the judges.
Coming in fourth place was Miss Queen Ishtar, who designed an elaborate gold-plated, semi-precious stones-studded crown for the Egyptian outfit she was wearing. In third place were the amusing duo of Miss Kaz and Britney, who came in the Liverpool 'look', complete with rollers in their hair. As they accepted the crown they said: "We wish George Michael was here to see us."
The second place went to a participant who called herself The Countess. Ms. Fielding announced and crowned the first Alternative Miss Liverpool, Miss Voodou, with her incredibly elaborate and eye-catching dress, as the crowd cheered on.