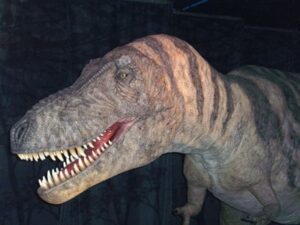 Children and adults are invited to walk with life-size dinosaurs at the city's World Museum.
The dinosaurs are in Liverpool for a debut visit, on loan from London's Natural History Museum, where they were originally exhibited.
The 'Age of the Dinosaur' display has six full-size moving dinosaurs, as well has fossils, plants and water reptiles alongside a replica of a Tyrannosaurus Rex jawbone.
Museum worker, Sonja Moss told JMU Journalism: "It is the first time it has come to Liverpool. The museum is making an effort to develop into something quicker and better."
Parent Rob Styles said: "I think it is brilliant, the kids can get their faces painted and see these life size dinosaurs although my lad was scared of the T-rex!"
Tickets cost £6, with £3 concessions, though there are free activities which include mask-making, taking your own plaster cast of a dinosaur footprint, badge-making and dinosaur digs.
There will also be colouring competitions with prizes, a dinosaur model display picnics and talks from dino experts.
The exhibition is running from 22nd October until 15th April 2012.